May 5, 2021 | Volunteer & Awards
Making a splash in sports and business: Claire Carver-Dias wins the J. Tuzo Wilson Distinguished Alumni Award
By Sharon Aschaiek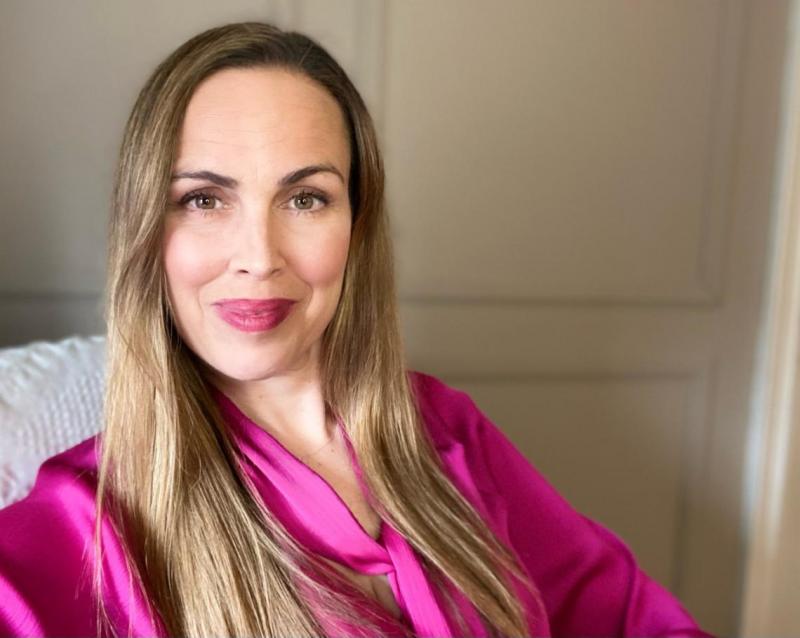 Claire Carver-Dias (BA 2002 UTM), a former elite athlete and current business coach, published author and U of T Mississauga lecturer, is this year's recipient of the J. Tuzo Wilson Distinguished Alumni Award.
---
It is easy to be inspired by former elite athlete Claire Carver-Dias (BA 2002 UTM), whose outstanding performances in synchronized swimming earned her medals at the Olympics and other sports competitions. But taken with her considerable achievements outside the pool in the broader arenas of competitive sport, communications, publishing and education, there's much more to admire about the life of this year's J. Tuzo Wilson Distinguished Alumni Award recipient.
Granted annually by the University of Toronto Mississauga, the award honours alumni who have made outstanding contributions to their community and their professional field.
In the case of Carver-Dias, the first "field" was the public pool in the Montreal neighbourhood where she grew up. Influenced by her highly athletic parents and three older siblings, she took to competitive swimming at age 9, but soon switched to synchronized swimming for its perfect blend of technical skill and creative flair.
"When I discovered synchronized swimming, everything clicked: my love of water, music and dance are all combined," says Carver-Dias, who lives in Oakville with her husband and four children. "The thing I loved about it the most is how you have to master the fundamental side before you can create these performances where you can showcase your artistry."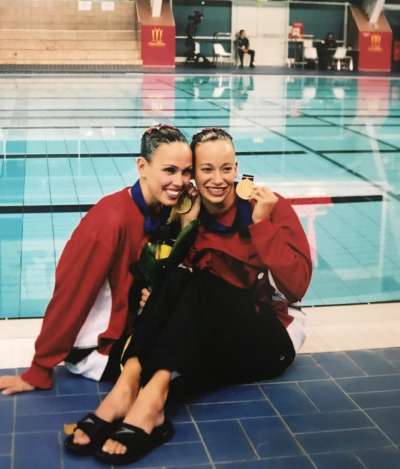 Carver-Dias dived into "synchro" swim training and qualified for the Canadian National Synchronized Swim Team (now called Team Canada Artistic Swimming) in 1994 at age 16. She committed to a rigorous 40-hour-per-week training schedule under world-renowned Canadian swim coach Sheilagh Croxon. Two years later, she decided to simultaneously study English at UTM. She spread out her degree over seven years to accommodate her rigorous training schedule and competition commitments.
Thousands of people began to sing loudly, and it was so moving, I got goosebumps
Over eight years, Carver-Dias made a splash in the sport, earning 30 medals at national and international competitions. Among her most noteworthy accomplishments, a team bronze at the 2000 Olympic Games, and two golds at the 2002 Commonwealth Games (one for solo, one for duet), and two golds at the 1999 Pan American Games in (one for team, one for duet). The last win was particularly memorable for Carver-Dias and her partner, Fanny Létourneau. As they stood on the podium adorned in their medals for the Canadian national anthem, the music suddenly stopped after about 30 seconds—but everyone in the Pan Am Pool building that day finished the song together.
"Thousands of people began to sing loudly, and it was so moving, I got goosebumps, and I immediately started singing at the top of my lungs, and it felt very much like a communal moment, that we were all there loving sport together and celebrating being Canadian," recalls Carver-Dias, who has been inducted to the Canada Games Hall of Honour, the Synchro Quebec Sport Hall of Fame and the Mississauga Sports Hall of Fame.
After her athletic career, Carver-Dias championed athlete rights and built a teamwork-focused consulting firm
Carver-Dias retired from synchronized swimming in 2002, but continued to be actively involved in Canada's sports world for many years, especially as an advocate for athletes' rights. As president of AthletesCAN from 2006 to 2008, she championed better funding for amateur athletes so that "those without the privilege of family support don't have to live below the poverty line while working to represent the country in their sport." She has also served as a communications program manager for the Canadian Olympic Committee, as Team Canada' chef de mission (spokesperson) for the 2018 Commonwealth Games, and is a current director on the board of Commonwealth Games Canada.
The same passion and discipline Carver-Dias applied to her competitive sport work has served her well in other professional endeavours. In 2004, she established the consulting firm Clearday Communications, where she draws on her first-hand knowledge of teamwork and performance management in sports to help businesses better connect with their stakeholders. She and her team of six provide services such as executive coaching, communication skills development, media training and presentation practice to companies such as KMPG, Johnson Controls and RBC.
The Games, a novel about the dark side of athletic pursuits, won a Mississauga Literary Arts Award
Along the way, she also continued to pursue formal higher education, following up her BA with an MA from McGill University and a PhD from the University of Wales, both in English. She put that English education to good use in 2013 by publishing her first book, The Games, a novel about the dark side of athletic pursuits that won a Mississauga Literary Arts Award. This year, she attained her MBA degree offered jointly by Queen's and Cornell universities.
Since graduating from UTM, Carver-Dias has continued to be an active alumna at her alma mater as a speaker and volunteer. Two years ago, her activities on campus evolved into a more formal role as she was hired as a lecturer. Today, she teaches two courses (online, due to the pandemic): the fourth-year Career Strategies course at the Institute of Communication, Culture, Information and Technology; and the second-year Presentation Skills for Management course at the Department of Management.
"Teaching is the highlight of my week. My husband says I leave my home office skipping," she says. "I love bringing the theory to life and helping students actively apply the knowledge and techniques to their own contexts."