January 11, 2022 | Alumni
Former Olympian Erin Willson is appointed the new president of AthletesCAN
By Jelena Damjanovic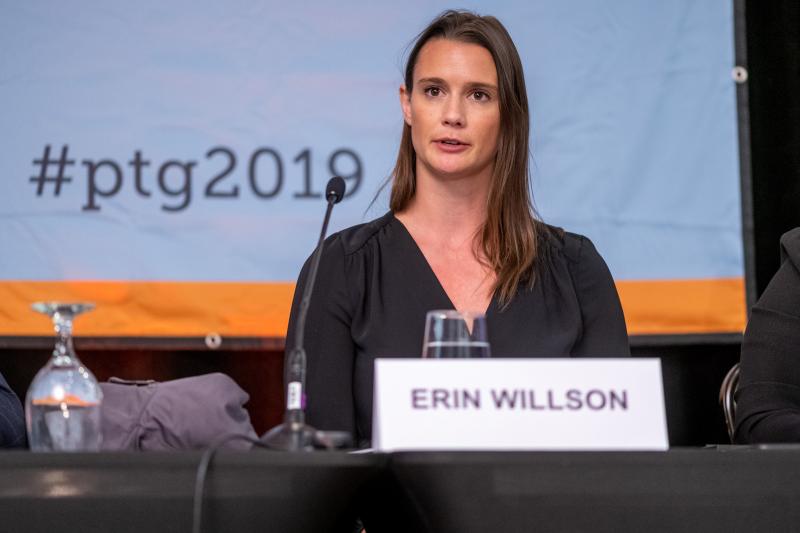 Erin Willson (BKin 2016, MSc 2019) picured at the Play the Game 2019 conference (image courtesy of Thomas Søndergaard/Play the Game)
---
Erin Willson (BKin 2016, MSc 2019), a University of Toronto alumna, a doctoral student at U of T's Faculty of Kinesiology and Physical Education (KPE), and a former Olympian, has been appointed the new president of AthletesCAN, the association of Canada's national team athletes.
Willson, who will become the 15th president of the organization, represented Canada for seven years on the national artistic swimming team and won a fourth-place finish at the London 2012 Olympics. Since retiring from her sport, she has completed a masters of kinesiology at U of T, focusing on abuse in sport, and is currently pursuing a doctoral degree on the same topic under the supervision of Gretchen Kerr (BPHE 1982, PhD 1989), professor and dean of KPE.

"I am very honoured to be in this position at AthletesCAN," said Willson. "This organization has been paramount in amplifying athletes' voices in key decision-making processes in Canada."

Among their accomplishments, Willson lists their recent advocacy for safe sport for athletes, which has contributed to the implementation of a universal code of conduct for safe sport, as well as a national independent mechanism to prevent and address abuse in Canadian sport.
I want to ensure that athletes continue to be leaders in effecting change for a safe, welcoming, inclusive sport environment in Canada
Willson has been open about her experiences with emotional abuse during her time with the national team, sharing her personal story and academic research with the public, most recently
in an article by the Globe and Mail
.
"I feel incredibly lucky to have been surrounded by many incredible professors and students who have taught me so much about safe sport, the Canadian sport system and athlete advocacy," said Willson. "I am so grateful for the opportunity to work with Professors Gretchen Kerr,
Bruce Kidd (BA 1965 UC)
,
Ashley Stirling
(BPHE 2005, MSc 2007, Phd 2011)
and many others, who have been instrumental to my growth and preparation for this role."
"It's wonderful to see Erin's research, advocacy and leadership inform one another," said Kerr.
Willson's objective will be to create a system where athletes can effectively advocate for themselves and have their voices heard within the Canadian Sport System.
"Ideally, this would include creating mechanisms to continually solicit feedback from athletes, effectively transmit their opinions to sport stakeholders and have key decisions informed by this feedback," she said. "I want to ensure that athletes continue to be leaders in effecting change for a safe, welcoming, inclusive sport environment in Canada."
Originally published by the Faculty of Kinesiology & Physical Education