September 20, 2017 | Volunteer & Awards
Excellence and loyalty: Arbor Awards celebrate U of T's dedicated volunteers
By Romi Levine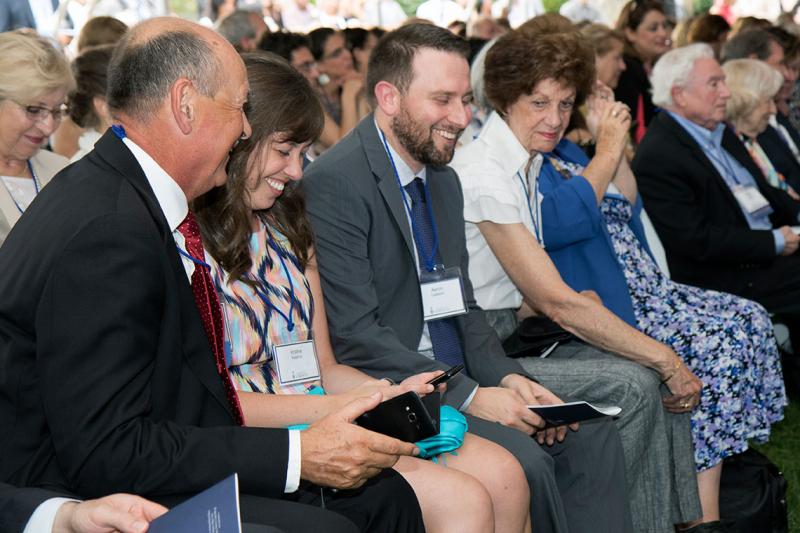 Volunteers and their families celebrated their achievements at the Arbor Awards (Photo by Romi Levine)
---
Inmar Givoni knows how important it is to have strong female role models.
When she was completing her PhD in computer science at the University of Toronto in the Faculty of Arts & Science, there were few women leading the way in her industry.
Now at the top of her game as the director of machine learning for Kindred, an artificial intelligence company building robots, she spends countless hours mentoring students, speaking in panels and participating in events at U of T to ensure that the next generation of female tech whizzes have someone to look up to.
"I know there aren't a lot of women in the tech industry so I feel like this is one thing where I can make a slightly bigger difference," she said.
Givoni is one of 95 volunteers honoured at this year's Arbor Awards – a celebration of students, alumni, faculty, staff and community members who have lent their time and talent to a diverse range of university activities.
"You are our secret weapon," U of T President Meric Gertler told the crowd of more than 450 current and past award recipients at a ceremony on Sept. 14.
"Our success is due in no small measure to the excellence, hard work, dedication and the loyalty of our volunteer leaders."
He spoke of the diversity of the "amazing list" of Arbor Award recipients, a list that ranged from Jean Johnston, who serves as mock patients for nursing students, to Donald Sadoway, a chair in materials chemistry at the Massachusetts Institute of Technology named by Time magazine as one of 2012's "Top 100 Most Influential People in the World" for his research into the performance and longevity of portable power sources.
Sadoway, who is a U of T alumnus, remains dedicated to the Faculty of Applied Science & Engineering, helping to fundraise and serving on the department of materials science and engineering's advisory board.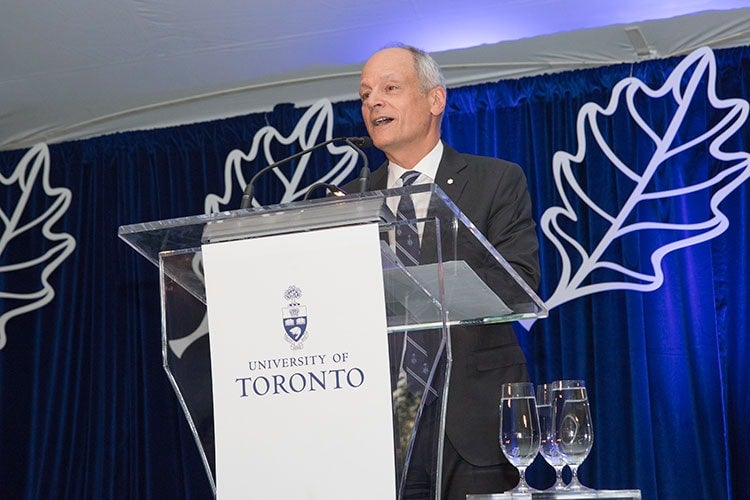 U of T President Meric Gertler spoke of the diversity of the Arbor Award recipients, citing their excellence, hard work, dedication and loyalty (photo by Romi Levine)
Arbor recipients came from all over the world, including the United States,  London and Hong Kong, to receive their awards.
"What they share are the qualities of generosity, passion and commitment," said Barbara Dick, assistant vice-president, alumni relations.
The awards are inspired by the university's motto – Velut Arbor Aevo – "May it grow as a tree through the ages."
Volunteers are given oak leaf pins to symbolize the important role they play in the U of T "family tree," said Dick.
"The alumni and friends have given their time, their skills, their passion to strengthen the roots and branches of our university."
U of T News spoke with some of this year's recipients to find out why they give back.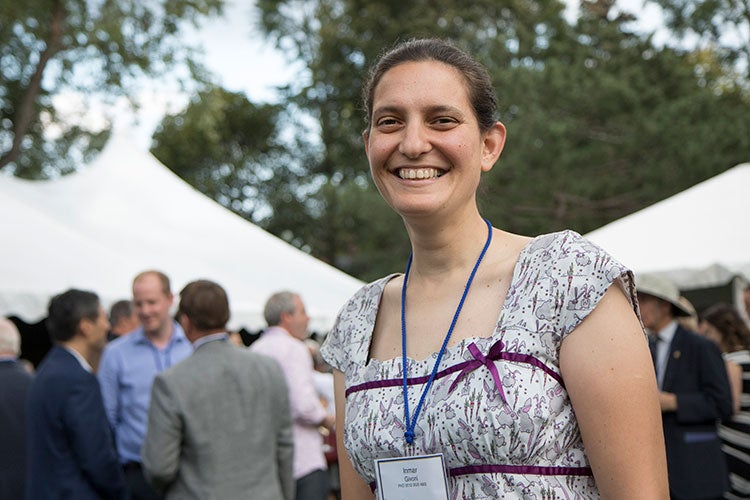 Inmar Givoni (photo by Romi Levine)
Givoni said she's inspired by the new generation of computer scientists with whom she gets to work.
"What I'm seeing is very strong, independent, passionate and confident young women," she said.
"They're aware of the issues, they are participating in efforts to make things better. They themselves do outreach in high school and so on."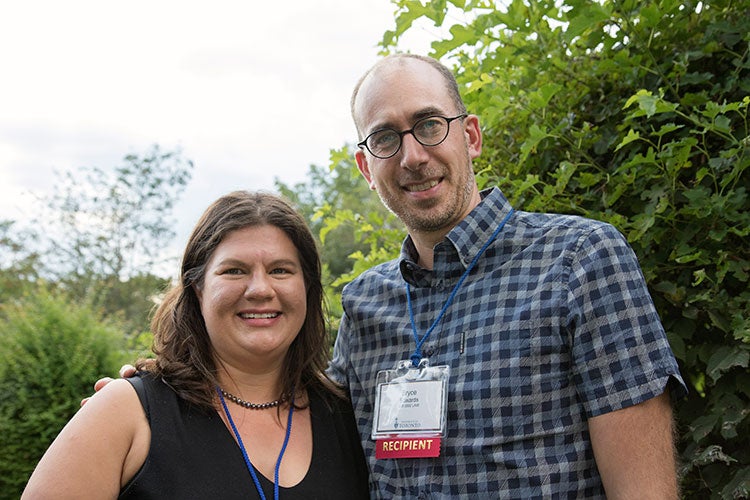 Maggie Wente and Bryce Edwards (photo by Romi Levine)
Maggie Wente and Bryce Edwards met when completing their law degrees at U of T and are now partners at Olthuis, Kleer, Townshend LLP, which supports Indigenous communities in Canada.
They work with law students at U of T on the Kawaskimhon moot, simulated court proceedings "based around First Nations traditions," said Edwards.
"The moot is enormously important because there isn't a lot of presence yet of First Nations traditions within the law school," he said.
Wente also mentors Indigenous law students. "I'm an Indigenous person as well and a lot of Indigenous students, when they go to law school, feel displaced, like maybe they don't belong and I think it's important to show them that there's a place in the legal profession for Indigenous people."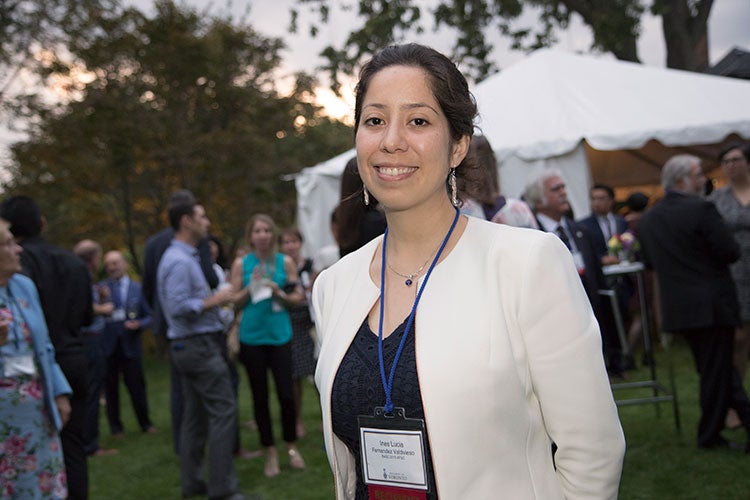 Ines Lucia Fernandez Valdivieso (photo by Romi Levine)
Ines Lucia Fernandez Valdivieso came to the ceremony from London, U.K., where she now lives and works.
As an industrial engineering alumna in the Faculty of Applied Science & Engineering, Fernandez Valdivieso continues to mentor and support U of T students.
She's also involved with the Lester B. Pearson International Scholarships, helping to evaluate students.
"Their stories are amazing," she said.
Fernandez Valdivieso says her Arbor Award was unexpected but appreciated. "People who volunteer don't do it for an award, we do it from our hearts," she said.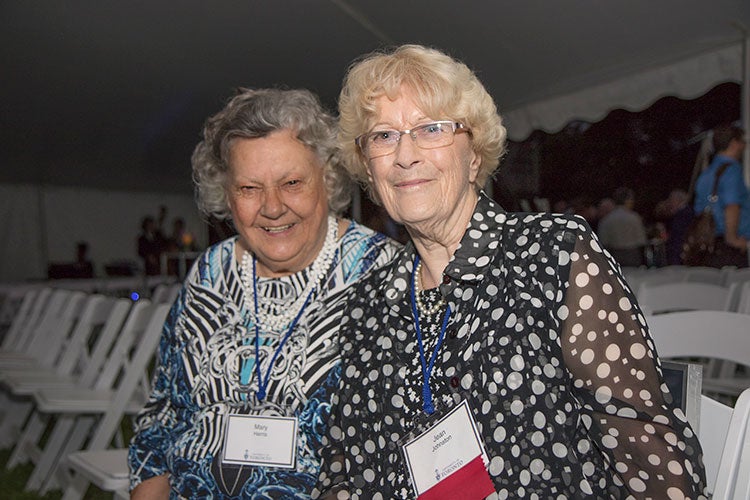 Mary Harris and Jean Johnston (photo by Romi Levine)
The volunteer work Johnston and Mary Harris do always gets the loudest applause from the audience: They're mock patients in the Lawrence S. Bloomberg Faculty of Nursing, helping student nurses perfect their assessment skills.
"I understand it's very helpful to the potential nurses," said Johnston.
And the job has some serious perks. 
"We go in our pajamas and housecoat and our winter clothes," said Harris, who received her award last year. "It goes on all day and you get a wonderful lunch."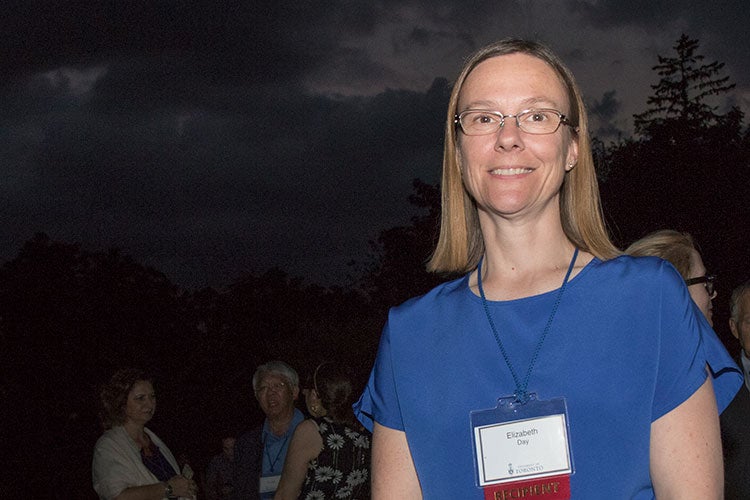 Elizabeth Day (photo by Romi Levine)
Elizabeth Day got to celebrate an important milestone this year with the Hart House Orchestra, which she's been a part of since 2000.
To celebrate its 40th anniversary, Day helped organize a trip to New York City, where the orchestra performed at the iconic Carnegie Hall.
"It's every classical musician's dream to say they've played in Carnegie Hall and indeed it was," said Day, who is a course co-ordinator for U of T Mississauga's Academy of Medicine.
"The hall was magnificent, lovely to look at and beautiful to play in from a musician's perspective. It was overwhelming for a lot of us, but once we got over that, we could play."