June 20, 2018 | Volunteer & Awards
Business leader and real-estate expert Geoffrey Matus to receive honorary degree
By Geoffrey Vendeville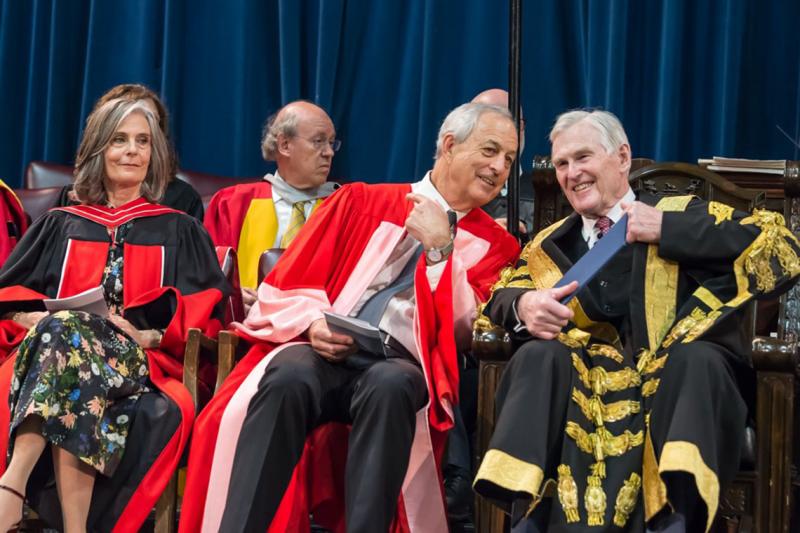 Geoffrey Matus, who received an honorary doctor of laws, honoris causa, on Wednesday, speaks to U of T Chancellor Michael Wilson at the convocation ceremony (photo by Steve Frost)
---
The motto on the University of Toronto coat of arms, Velut arbor aevo, is adapted from Horace and means: "May it grow as a tree through the ages."
Among those who have tended to U of T's growth, few have had as great an impact as Geoffrey Matus (Hon LLD 2018), president of the consulting company Mandukwe Inc. He received an honorary doctor of laws, honoris causa, from the University on Wednesday.
In various capacities, Matus has volunteered his expertise in investment, real estate, law and entrepreneurship to the university's benefit. He received an honorary doctor of laws, honoris causa, Wednesday "for outstanding service to the university, as a trusted advisor and committed volunteer."
He is the creator and founding chair of U of T's real estate advisory board and a member of the president's investment advisory committee. After the recession of 2008-2009, Matus was a key consultant who helped stabilize the university's investments. He was also instrumental in the revitalization of the University of Toronto Asset Management Corporation. 
He helped U of T become a long-term equity partner with MaRS, the "world's largest urban innovation hub," thereby finding another home for the university's research, innovation and entrepreneurship.
He is a member of the Faculty of Medicine campaign cabinet and co-chair of the university's investment advisory commitee. He's also a former member of the campaign steering commitee and has served on the business board of the Governing Council. 
In 2010, he received the Arbor Award, which recognizes U of T students, alumni, faculty, staff and community members for exceptional volunteer work.
Matus is the co-founder of several companies including: Cidel Bank & Trust, Tricon Capital Group and NexGen Financial Corporation.
His record of volunteering extends outside the university. He serves on the board of the Canadian Opera Company and was previously a board member of Mount Sinai Hospital. He was appointed an honorary director of the Baycrest Centre for Geriatric Care and is a past chair of its board of directors.
He has degrees from Columbia Law School in New York City and the University of Witwatersrand in South Africa.
A message to U of T grads from Geoffrey Matus:
"It is common for people to think of idealism as belonging to one's youth – a kind of indulgence, something that gives way to the responsibilities and realities of life after university. As you move onto the next phase of your life, of course you are looking to the future, but take a few moments to reflect on your past few years and think about what you are taking with you: the skills and the knowledge and the way you have grown and been exposed to new ideas and ideals.  Be proud of them and consciously allow them to continue to shape and influence your life."