U of T Where You Are: Why should you care and what can you do about climate change?
Join fellow alumni to learn more about climate change and its impact.
The climate is changing fast. Canada is warming at about twice the global rate, with the greatest warming occurring in the North. Climate change means not only warming, but an increase in the frequency and severity of extreme weather events such as droughts and hurricanes. A changing climate also means less predictable weather patterns that impact agriculture.  
The bottom line is that climate warming impacts our prosperity, health and social stability. Why? Here are two main reasons: (1) our society is adapted to live within a very narrow range of stable climate conditions which we are leaving, and (2) our prosperity has relied on readily available cheap energy in the form of fossil fuels, especially oil and gas. With haste, our conversation must turn to what we can do to limit our greenhouse gas emissions. Those actions range from each one of use taking responsibility for reducing our "carbon footprint" to collective societal action to shift our reliance from fossil fuels to renewable energy.
Register to watch live on November 25th or, if you're unable to tune in, you can register to view on-demand after the broadcast date.
---
Miriam Diamond (BSc 1976, PhD 1990) is a professor in the Department of Earth Sciences (as of July 1, 2012) after her affiliation with the Department of Geography and Planning since 1991. She is cross-appointed to the Department of Chemical Engineering and Applied Chemistry, the Dalla Lana School of Public Health, School of the Environment, and the Department of Physical and Environmental Sciences at University of Toronto, Scarborough. 

She received her B.Sc. in Biology from the University of Toronto (1976), M.Sc. from the University of Alberta in Zoology (1980), M.Sc.Eng from Queen's University (Kingston, Ontario) in Mining Engineering (1984), and her Ph.D. from the Department of Chemical Engineering and Applied Chemistry from University of Toronto (1990).  
​The goal of Prof. Diamond's multidisciplinary research program is to improve our understanding of chemical contaminants from emission, through to transport indoors and outdoors, and ultimately human and ecological exposure. This research has been published in over 200 articles and chapters in addition to receiving media attention.

Prof. Diamond is an Associate Editor of the journal Environmental Science and Technology, which is a leading journal in the field, co-chair of the Canadian Chemical Management Plan Science Committee and a member of the Board of Directors of the Canadian Environmental Law Association. She is a Fellow of the Canadian Geographical Society and was named Canadian Environmental Scientist of the Year in 2007 by that society.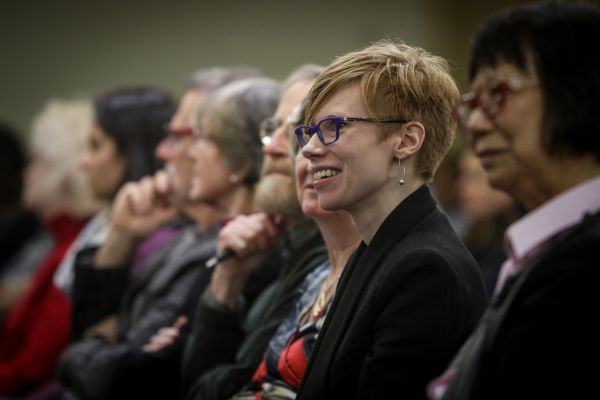 U of T Where You Are
U of T Where You Are
U of T's popular lecture series comes to where you live and work, in cities around the world. Stay informed, get inspired!
More about this lecture series