New York City
New York, NY: Alumni Panel - How Will AI Shape Our Future?
Join U of T Alumni and friends for a discussion about Artificial Intelligence
**Please note that this event is sold out. If you would like to be added to the wait list, please email regional.programs@alumni.utoronto.ca.
The University of Toronto Alumni Network of New York and the Queen's University Alumni Association of New York, in partnership with Ontario International – New York Trade & Investment Office, invite you to a moderated panel event about artificial intelligence ("AI"). AI will soon have an impact on everyday lives; this panel will cover a range of interesting topics, and attendees will learn about latest trends in AI. 
Panel speakers:

Dr. Emmanuel Fombu (MBA Queen's University's Smith School of Business; MBA from Cornell University's Johnson School of Business)
Physician, author, speaker and healthcare executive turned Silicon Valley entrepreneur 
Dr. Fombu is an internationally recognized authority on the convergence of digital technologies and healthcare. He is an award winning and best selling author, physician, Keynote speaker, investor, entrepreneur and medical futurist with over 10 years combined experience in clinical medicine, drug development, medical affairs, digital medicine, business development and licensing, research, pragmatic trials and product lifecycle management strategy in biopharmaceutical industry and private equity.

Alp Kucukelbir (BASC, University of Toronto; PhD, Yale University)
Chief Scientist at Fero Labs, Assistant Professor (Adj.) at Columbia University
Most machine learning technologies are mysterious black boxes; they are hard to understand and even harder to trust. Alp Kucukelbir specializes in a type of machine learning that is more interpretable and explainable — "white box" solutions that are easier to use in the real world.
Dera Nevin (JD Law, U of T; MA, Queen's University; BA (Hons), Queen's University)
Dera J. Nevin has worked with law firms and corporate law departments to improve operating results through curated sourcing and implementation of technology and data, and identification of services to productize. She has implemented turn-around and modernization of multiple eDiscovery and practice technology stacks, and has cleansed data, upgraded staff skills and operating procedures in law firms and law departments to incorporate new and emerging technologies. She conducts technology reviews, proofs of concepts and RFPs to acquire and implement technology and integrate it into practice, using  storytelling to facilitate adoption. 
The panel will be followed by a Q & A session and a networking reception. 
Light refreshments will be served.
If you have any questions, please email regional.programs@alumni.utoronto.ca.
---
This presentation is one of the many diverse events bringing U of T right into your community. Stay informed, inspired and connected, because together we are boundless.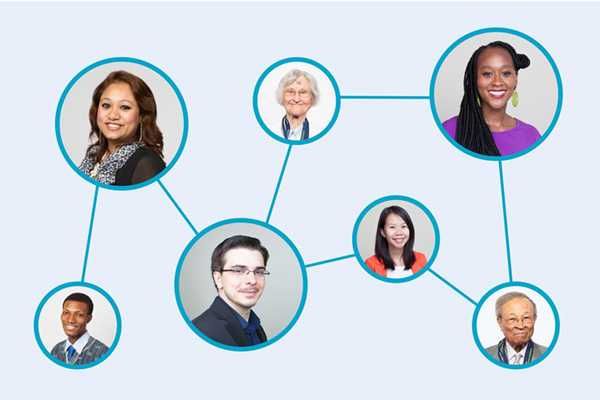 Alumni Networks
Alumni Networks
U of T alumni form an incredible network across more than 190 countries. We can help you stay in touch, enjoy great social experiences, meet interesting, like-minded people, and feed your love of learning. 
Connect with alumni in your community