Global Entrepreneurship: An International Conversation with Sarang Nerkar (BASc 2017)
Explore the world of entrepreneurship through a global lens
Gain candid insights into the world of global entrepreneurship in this interactive conversation with U of T alumnus Sarang Nerkar (BASc 2017).
Drawing on his own experiences as a startup founder and CEO, Sarang will share his perspective on the opportunities, challenges and rewards of entrepreneurship through a global lens.
From conducting cutting-edge research on nanosystems, to building a wearable computing startup in Canada and India, to giving back to communities through tech, Sarang's dynamic path will inspire your own entrepreneurial aspirations!
Refreshments will be provided.
---
About Sarang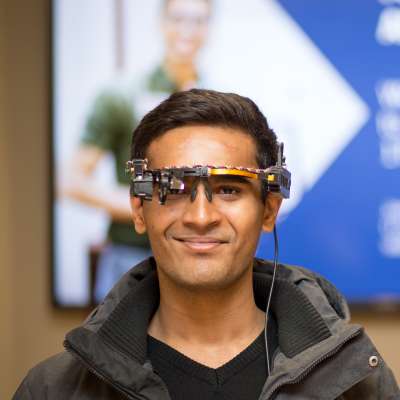 Sarang Nerkar is an electrical and computer engineer. He is the Founder and CEO of Innosapien Agro Technologies, a startup developing a wearable plant phenomics device for pre-detection of pests, diseases and deficiencies in plants. He currently serves as a Course Tutor on Artificial Intelligence at the University of Oxford and Climate Ambassador for India at the World Bank Group's Global Youth Climate Network. His research centers around wearable computing, augmented reality, artificial intelligence and computational photography. For over three years, Sarang conducted research with Professor Steve Mann (also known as the "Father of Wearable Computing") at the Humanistic Intelligence Lab at U of T.
Based on his  research, Sarang has developed novel modular augmented reality eyeglasses, smart time-lapse cameras and various other wearable computing, augmented reality, computational photography and machine learning platforms. His work has resulted in various peer reviewed research publications, trade secrets and multiple patent filings. The focus of his work has been public sector application of these novel technologies. His published work and products have received multiple accolades including the Gandhian Young Technological Innovation Award presented by the Honourable President of India, Zee Yuva Sanmaan, Top Innovator Award by World Bank Ag Observatory and Most Futuristic Award in Japan among others. His work was exhibited at the Presidential Palace in India for 6 days at the Festival of Innovation and Entrepreneurship.
He has been invited to present his work at various prestigious forums around the world such as the Prime Minister's Startup Conclave (2022, New Delhi), Viva Tech 2019 (Paris), ACM SIGGRAPH 2018 (Vancouver), ACM Tangible Embedded & Embodied Interactions 2017 (Japan), ACM International Symposium on Wearable Computers 2017(Hawaii), Hello Tomorrow 2017 (Korea), Asian Leaders Conference 2017 (Korea), Mobile World Congress 2017(Barcelona), Consumer Electronics Show (Las Vegas), Canadian National Exhibition 2016 (Toronto), etc.
Sarang has been featured in interviews several times, including by Through the Wormhole with Morgan Freeman (Discovery Science Channel), ACM SIGGRAPH, Doordarshan (India), HW News (India), Zhejiang Provincial News(China), etc. for his work.
Have questions about this event?
Contact Jona Malile at jona.malile@utoronto.ca