Online
Friends of Planning Spring Social 2021
The University of Toronto Planning Alumni Committee (PAC) and the Department of Geography & Planning are pleased to invite alumni, faculty, and fellow city builders to the 25th Annual Friends of Planning Spring Social! 
For this milestone year, we look forward to hosting a virtual event, continuing the PAC tradition of providing a platform to highlight a pivotal planning topic. We are delighted to have Leslie Woo provide a keynote address entitled "Building Better, More Inclusive Cities: The Collective Leadership Needed to Get Us There."
Leslie Woo is a respected leader with over 25 years of experience building sustainable communities and shaping urban development in Canada's fastest-growing urban region, greater Toronto. Leslie assumed the role of CEO at CivicAction in September 2020. CivicAction is a premier civic engagement organization that convenes established and rising leaders from all sectors, backgrounds and experiences, CivicAction catalyzes actions and impactful solutions to address pressing challenges in the Greater Toronto and Hamilton Area and beyond. Before joining CivicAction, Leslie was at Metrolinx for over a decade including her time as Metrolinx's Chief Planning and Development Officer. Leslie is a tri-sector athlete with experience in the public, private and not-for-profit sectors as well as her experience as a planner, architect and community activator. An accomplished leader, Leslie was named One of Canada's Top 100 Most Powerful Women in 2017 by WXN, Spacing Toronto's Transit Changemaker in 2016 and Canada's Women's Infrastructure Network's 2015 Outstanding Leader. Founder of shebuildscities.org, Leslie uses her voice and platform to amplify and celebrate other women city builders. 
---------------------------------------------------------------------------------
The U of T Planning Alumni Committee is comprised of volunteer members. All proceeds from this event are used to enrich the learning experiences of graduate planning students and foster connections between students and the professional planning community.
If you have any questions, please feel free to contact us and we will address them as best as we can:
Sponsorship:
sponsorship@uoftpac.ca
Tickets:
events@geog.utoronto.ca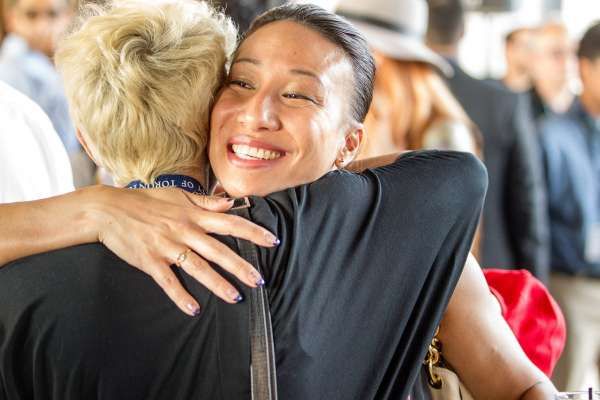 Alumni Reunion
Alumni Reunion
Every year, U of T is proud to honour our alumni. Come reconnect with old friends and make new ones during a weekend of fun events and fascinating lectures.
Visit the website