Gordon Cressy Student Leadership Awards
CONGRATULATIONS TO THE 2019 AWARD RECIPIENTS!
The 2019 Gordon Cressy Student Leadership Award recipients were honoured at a ceremony on Monday, April 22, 2019. Read more about the winners.
About the Award
The Gordon Cressy Student Leadership Awards were established in 1994 by the University of Toronto Alumni Association (UTAA) and the Division of University Advancement in order to recognize students who have made outstanding extra-curricular contributions to their college, faculty or school, or to the university as a whole.
In naming the awards after Gordon Cressy,the former vice-president of development and university relations, the UTAA recognized his commitment to higher education and his leadership in fundraising and community service. The qualities of leadership and dedication demonstrated by Mr. Cressy during his six years with the university are also embodied in the efforts of students chosen to receive this award.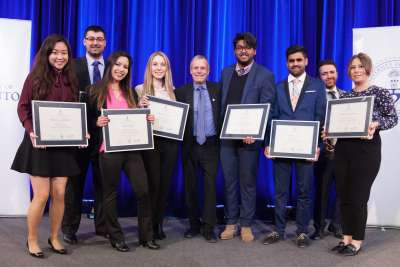 Outstanding student leaders
The student experience at the University of Toronto is about more than classes and books. It is about life on campus, in the community and in the world at large. The Gordon Cressy Student Leadership Awards recognize graduating students for making outstanding contributions to improving the world around them and inspiring others to do the same.