University of Toronto African Alumni Association (UTAAA)
About The UTAAA
We are a team of dedicated volunteers serving purposefully to enrich our local communities.
We organize regular African Influencers Forums featuring accomplished University of Toronto alumni and other established community members who are willing to share their career trajectories with our community. Priority is often given to members of the African diaspora.
In 2017 we created The GOWN: African Scholars Awards whose aim is to recognize, appreciate, and reward African excellence by honoring members who positively impact our communities. These annual awards include the Influencers Award, the Emerging Scholars Award, the Social Innovation Award, the Distinguished Volunteer Award, the Global Impact Award, and the Community Development Award.
In 2018 we launched the annual Refugee Awareness Week (RAW) initiative. The RAW is one of our central annual programs that offers an opportunity for Africans and Canadians to collaboratively discuss the global refugee issues. These conversations help shed light on the contributions of former refugees to the Canadian economic, social, cultural, and political landscape.
We educate, empower, and elevate members of our Afro-communities through different workshops, webinars, and other interactions. Furthermore, we promote equitable cultural exchanges through mentorship and roundtable discussions. We also provide support for African newcomer students to smoothly transition into Canadian academic and social life.
Email us: africanalumni@gmail.ca | ut.african@alumni.utoronto.ca
Connect on LinkedIn: African Alumni Association
Connect on Facebook: African Alumni Association
Connect on Instagram: @africanalumni
Connect on Twitter: @africanalumni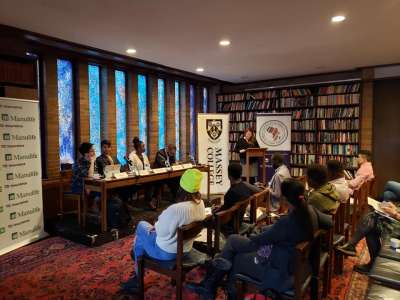 Core Values
Vision
To mobilize U of T's African diaspora and foster a culture of giving back through leadership, mentorship, community service, and other contributions.
Mission
To build a sustainable, reliable community of African leaders in the Greater Toronto Area (GTA) and beyond.
Values
We identify, recognize, and reward African excellence.
We acknowledge, develop, and promote African talent.
We recruit, negotiate, and connect African professionals.
We advocate for refugees and immigrants of African descent.
We care, foster, and support African mental wellbeing.
Get Involved
Who We Are
The UTAAA team includes:
Henry Ssali, Founder and Executive Director
Ismail Kibirige, CFO
Catherine Batte, Senior Volunteer Coordinator
Bernice Datsomor, Volunteer Coordinator
Rachel Samuel, Special Projects Coordinator
Ana Fonseca, Special Projects Coordinator
Victor Bukenya Muwanguzi, Information Systems Specialist and Data Analyst
Alfred Maluach, STEM Liaison Officer
Rishard Rashid Mohammed, East African Regional Director