U of T Alumni Association Virtual AGM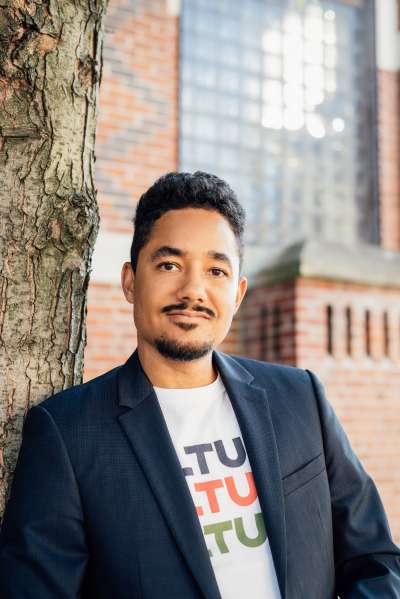 Urban Equity: Building Back Better From COVID-19
An online talk with social entrepreneur and changemaker, Kofi Hope, followed by the U of T Alumni Association (UTAA) Virtual AGM
Wednesday, May 26, 2021
5:00–6:00 p.m. Conversation with Kofi Hope
6:00–6:30 p.m. U of T Alumni Association Virtual AGM
This event is part of Alumni Reunion – Home Edition.
Free online
How should urban centres recover from COVID-19? Join adjunct U of T professor, Kofi Hope (BA 2006 Innis), for a conversation about post-pandemic cities. Will inequities deepen? Or can we build back in a more diverse, just and sustainable way? Winner of the 2017 Jane Jacobs Prize, Hope is a Toronto Star writer and CEO of Monumental—an organization that works towards fair and equitable institutions. 
Hope will be interviewed by Professor Matti Siemiatycki, Interim Director, School of Cities, University of Toronto. Q&A to follow. Please submit your questions online at any time during the talk.
All U of T alumni are members of the UTAA and invited to learn more about its activities at the Virtual Annual General Meeting, which immediately follows the conversation with Kofi Hope. UTAA AGM materials follow below.
register
How to vote in the virtual AGM
Voting is voluntary and optional but it's also your way of participating in the AGM. If you wish to vote, you can either register to attend this online version of the AGM or appoint a proxy (such as the UTAA president or someone else of your choosing) to attend and vote on your behalf. Choose your preferred option below:
Option 1: I will attend
Join us online for a brief Annual General Meeting on May 26, 2021 at 6:00 p.m. (EDT). View the meeting materials.
—OR—
Option 2: I will not attend, I will appoint a proxy instead
If you can't attend the Virtual AGM but still wish to vote, you can appoint a proxy (either the UTAA president or someone else of your choosing) who will attend and vote on business items at the AGM on your behalf. The online proxy form takes less than five minutes to complete. Completed proxy forms must be received by May 24, 2021 at 6:00 p.m. (EDT).
Data and privacy: This online proxy form is powered by a third-party service called HelloSign. HelloSign reserves the right to retain, read and/or share your submitted data with partners and third parties. If you do not wish to use HelloSign, you may email us a completed PDF version of the proxy form instead. Simply download the PDF proxy form, fill it out and send it to utaa.secretariat@utoronto.ca by May 24, 2021 at 6:00 p.m. (EDT). Note that the PDF must be signed, either by e-signature (using software like Adobe Reader) or by scanning a printed, signed PDF.
materials
AGM Materials
The following materials will be available ahead of the meeting. Please check back a few days before the AGM.
2021 UTAA AGM Agenda
2020 UTAA AGM Draft Minutes
2021-2022 UTAA Proposed Slate of Directors
2020-2021 UTAA Audited Financial Statements
2020-2021 UTAA President's Report
Important Resources:
Frequently asked questions
What is the UTAA?
The UTAA is an organization that represents U of T alumni at home and abroad, helps alumni participate in the life of U of T, and advances the University's mission. 
Am I allowed to participate?
If you're a U of T alum, you may attend the AGM and participate by voting. You may either vote when you attend online or appoint a proxy to vote on your behalf. Like the more than 620,000 U of T graduates around the world, you are automatically a member of the UTAA and invited to attend all UTAA events.
Further questions?
Please contact us at utaa.secretariat@utoronto.ca if you have any questions, concerns or technical difficulties.