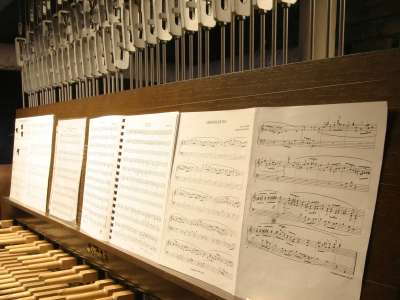 THE MUSIC OF REMEMBRANCE
A carillon is a musical instrument consisting of a set of bells cast in bronze and tuned so that they can be sounded together harmoniously by a player on a keyboard. The 51 bells of the Soldiers' Tower Carillon range in weight from four tons (low Bb, an octave below middle C) to 23 pounds (high D, three octaves above middle C). The carillonneur can control dynamic expression by variation of touch. U of T's bells are played by Roy Lee, Elisa Tersigni and Naoko Tsujita.
The initial 23 bells of the Soldiers' Tower Carillon were dedicated on October 6, 1927 , with each bells honouring different members of the University who fell in the First World War. Additional bells, in memory of those who fell in the Second World War, were added in 1952 and 1976. Inscriptions carved into the Tower record those honoured by each bell.
On the 100 anniversary of the First World War armistice, U of T alumni commissioned alumnus Scott Allan Orr to write a special commemorative carillon composition.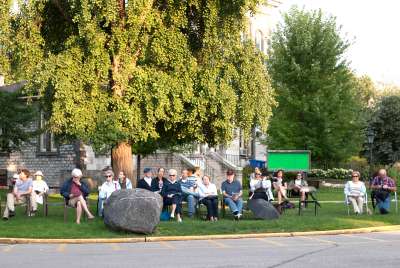 UPCOMING CARILLON RECITALS
Recitals are free and open to the public. Although the carillon can be heard clearly at a distance, the best places to listen are Hart House Circle lawn, the back campus, and the Hart House and University College quadrangles. 
The carillon plays during June and November convocations, informally for short unscheduled intervals each week, and for formal, one-hour recitals. 
During formal recitals, seating is arranged at the base of Soldiers' Tower at 7 Hart House Circle, where a television monitor captures the carillonneur's performance.
To receive email notices of upcoming formal recitals, contact Kathy Parks, 416-978-3485 or by email at soldiers.tower@utoronto.ca 
Listen to the carillon
O Canada composed by Calixa Lavalee; arranged by Gordon Slater.
The Teddy Bears' Picnic composed by John Walter Bratton; arranged by Gordon Slater.
God Save the Queen; arranged by Gordon Slater.
Booking carillon music for your function
A carillonneur can sometimes be booked to play for weddings or private functions at Hart House or University College. To inquire, contact Kathy Parks, 416-978-3485 or soldiers.tower@utoronto.ca