Annual Service of Remembrance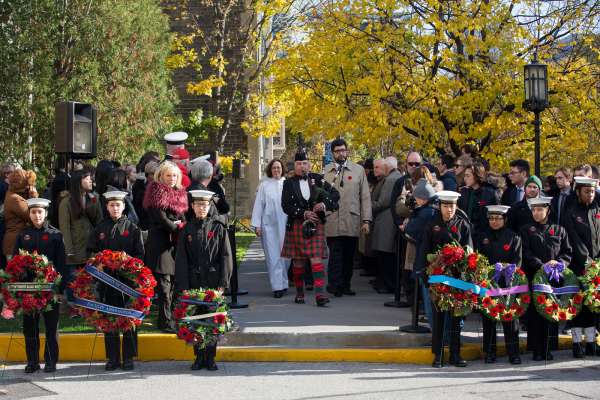 JOIN US TO REMEMBER OUR HEROES
Each year, the University community gathers to remember the faculty, staff, alumni and students who fell in the First and Second World Wars and other action.
The annual ceremony takes place at the foot of Soldiers' Tower on or close to November 11.
2018 Service of Remembrance
Friday November 9, 2018
10:20-11:00 a.m.
Soldiers' Tower, 7 Hart House Circle
Each service includes the recitation of the poem In Flanders Fields, written by University College alumnus John McCrae, the singing of traditional hymns, readings, laying of wreaths, The Last Post, The Lament, Reveille, and the royal and national anthems. A reception in the Great Hall of Hart House follows the service, and the Memorial Room museum in Soldiers' Tower is open for visitors.
All are welcome to attend.
The Memorial Room inside the Soldiers' Tower will also be open to visitors on Sunday November 11, 2018, but the Service of Remembrance takes place on Friday November 9.
If you have questions, please contact: Kathy Parks, 416-978-3485 or soldiers.tower@utoronto.ca