Soldiers' Tower Carillon Inscriptions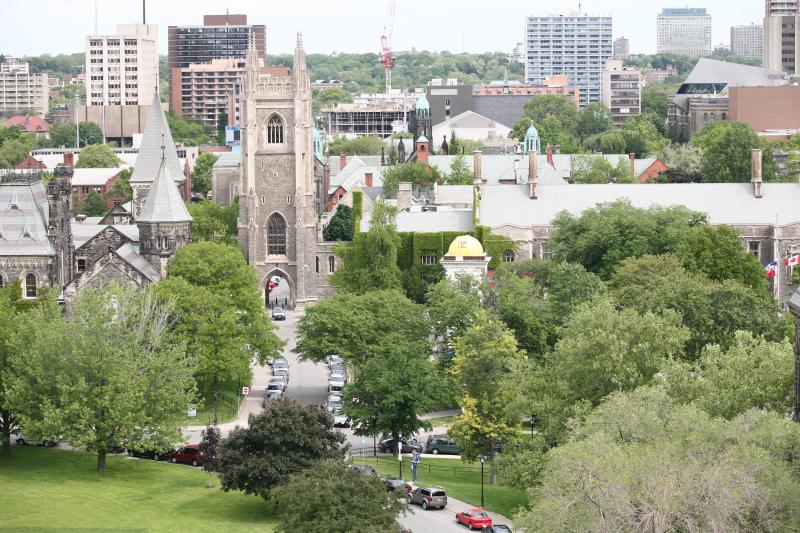 I.  The gift of H. Maurice Cody, BA'20, in memory of the Old Boys of University of Toronto Schools.
II.  To honour the memory of Lieut. Gordon S.M. Gauld, MC, RFA and RFC, BA'15 UC, killed while flying March 25, 1918.
III.  Class of 1882 University College.
IV.  In memory of Capt. Howard Kilbourne Harris, MC, Essex Regiment, killed in action between Mourchies and Peronne, February 22, 1918.
V.  In memory of members of the 147th (Grey) Battalion, C.E.F.
VI.  Dedicated to the memory of Col. W.R. Lang, VD, by the University of Toronto Contingent, COTC.
VII.  In memory of Maj. Gordon H. Southam, BA'07 UC, killed in action, Oct. 15, 1916 at Courcelette.
VIII.  Lt. James Ernest Robertson, BA, LL.B, 27th Can.Bn., killed in action, March 9, 1916 "VIRTUTIS GLORIA MERCES".
IX. Presented by W.H. Ballard, MA, LL.D, UC 1871, in memory of the old University Company K (No.9) Queen's Own Rifles.
X. Montreal Branch, Alumni Federation.
XI. University College Alumnae Association.
XII.  University of Toronto Club of New York City.
XIII.  A tribute from the officers of No.4 Canadian General Hospital to the memory of their comrades who fell.
XIV.  In memory of the members of Delta Kappa Epsilon who gave their lives in the Great War 1914-1918.
XV.  Alpha Delta Phi.
XVI.  Delta Upsilon.
XVII.  In memory of Lt. Evan Ryrie, UC'16 "I have lived my life and that which I have done may He within Himself make pure."
XVIII. The gift of Canadian Army Women's Auxiliary in proud remembrance of the members of the Corps who fell in defence of the Empire.
XIX.  Fifty-one men of Trinity ΜΕΤ ΑΓΩΝΑ ΣΤΕΦΑΝΟΣ.*
XX.  From the Academy of Medicine, Toronto, as a tribute to the memory of the Fellows who gave their lives.
XXI.  "Extol, ye bell, the virtue of our valorous men." Alumni - Faculty of Applied Science and Engineering.
XXII.  The Alumni Association and friends of Victoria College.
XXIII.  University College Alumni Association.
* ΜΕΤ ΑΓΩΝΑ ΣΤΕΦΑΝΟΣ (Greek, Met' agona Stephanos, "After the struggle, the crown") is a Trinity College traditional motto.
Bells XXIV-XLII were the June 5, 1953 gift of Eric Phillips, CBE,DSO,MC,BASc,LL.D, Chairman of the Board of Governors, in memory of the members of the University who fell in the Second World War. These bells were later replaced with 28 new bells and rededicated on May 7th, 1976.