U of T's virtual convocation was a first – and so was the degree-mailing operation that accompanied it
By Scott Anderson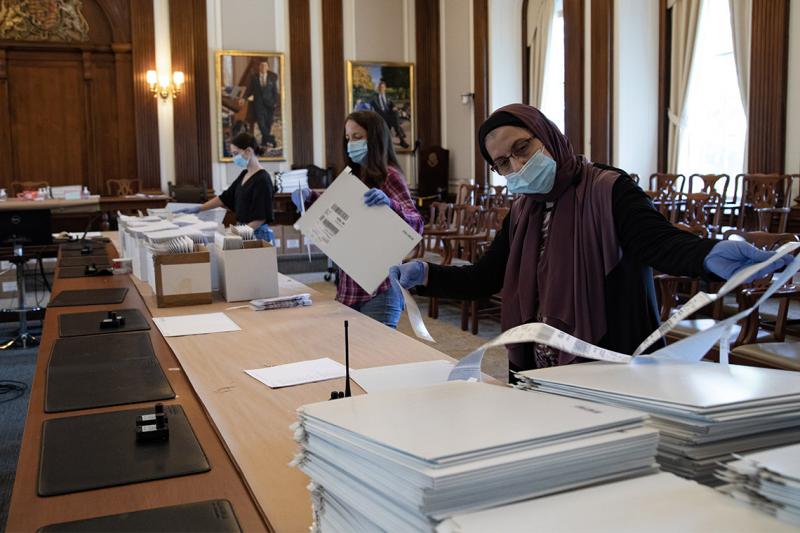 With U of T's spring convocation held virtually this year, staff and volunteers prepared and couriered more than 15,000 degrees and diplomas to U of T graduates in Canada and 99 other countries around the world (photo by Johnny Guatto)
---
Soon-to-be graduates of the University of Toronto, as well as their families and friends, tuned in June 2 to take part in the University's first-ever virtual convocation ceremony, recorded inside Convocation Hall.  
What viewers haven't seen is the small, but dedicated group of staff and volunteers working behind the scenes since the virtual ceremony to prepare and courier more than 15,000 degrees and diplomas to graduates in Canada and 99 other countries.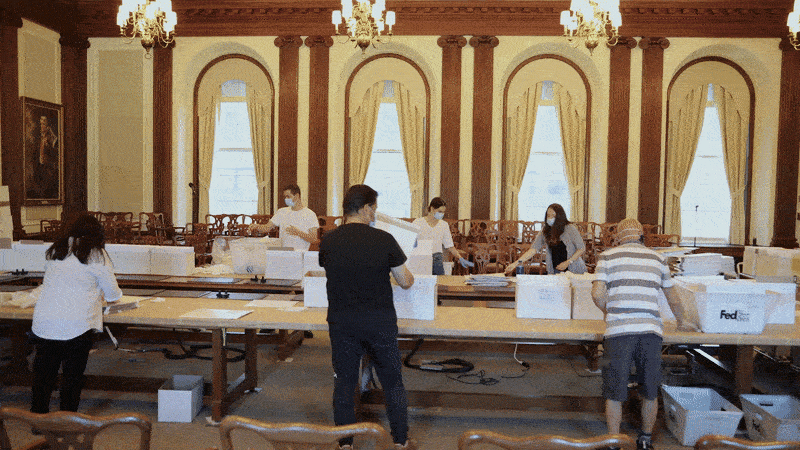 Inside nearby Simcoe Hall, boxes filled with shipping envelopes and convocation program booklets lined the second-floor hallway and additional boxes filled with parchments and envelopes covered the tables in the Governing Council chamber and boardroom.
The scale and intensity of the mailing operation was without precedent, according to Silvia Rosatone (BSc 1988 SMC, MEd 1991, BEd 1994), director of the Office of Convocation, who noted that U of T typically sends out about 200 parchments to students who don't attend their ceremony.
With up to 12 people working on the project each day (wearing gloves, keeping more than two metres apart and in multiple rooms) over the last two and a half weeks, the university was able to send out between 800 and 2,200 packages daily.
Included in each package were two copies of the program booklet for the student's ceremony to keep as mementos. Each booklet, with a newly designed cover for 2020, contains messages from the chancellor, president, and relevant dean and/or principal. A note at the end explains that this marks the first time in U of T's 193-year history that all degrees have been conferred in absentia.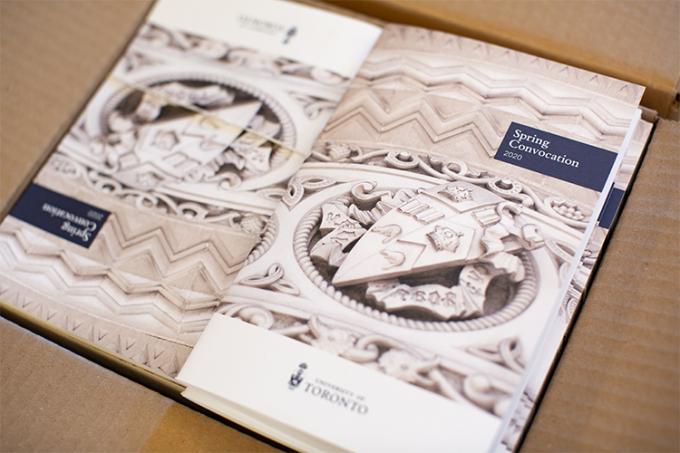 "It shows how heavily this decision was weighed," said Samantha Smith, the assistant director of the Office of Convocation.
On June 2, many grads and their families took to social media to share screen shots of their names when they appeared in the convocation video. Just a few days later graduates had started receiving their packages and had taken to social media to post pictures of themselves with their newly arrived parchments.
"Two years ago when I graduated from my undergrad at U of T, I told myself that I'd get to walk the stage at Con Hall again for my Masters," wrote one graduate on Instagram, who posed with her degree. "Even though it didn't turn out the way I thought it would, I walked away with some of the greatest memories and the greatest friends."
Wrote another: "Proudest achievement to date."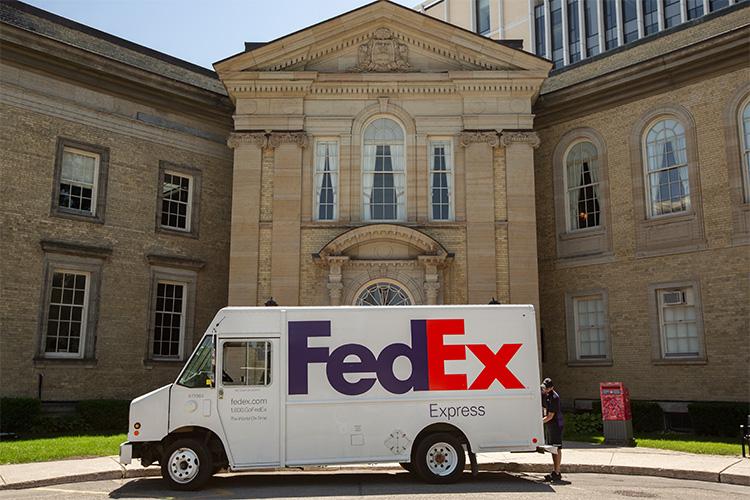 Rosatone said that, despite the complex and labour-intensive job of preparing and couriering thousands of packages, members of the team welcomed the opportunity to make this year's convocation experience as positive as possible for graduates.
"Convocation is a happy time and a celebration of a hugely important milestone," she said. "We collectively wanted to ensure that new grads got their moment."
---
VIRTUAL HUGS FOR THE CLASS OF 2020
Congratulations 2020 graduate! Your new alumni community welcomes you with open arms.
Your relationship with U of T doesn't have to end with graduation. It's actually a lifetime resource of ideas, networks, connections and support.