September 1, 2018 | Alumni
U of T to host inaugural alumni boot camp on machine intelligence for engineers
By Liz Do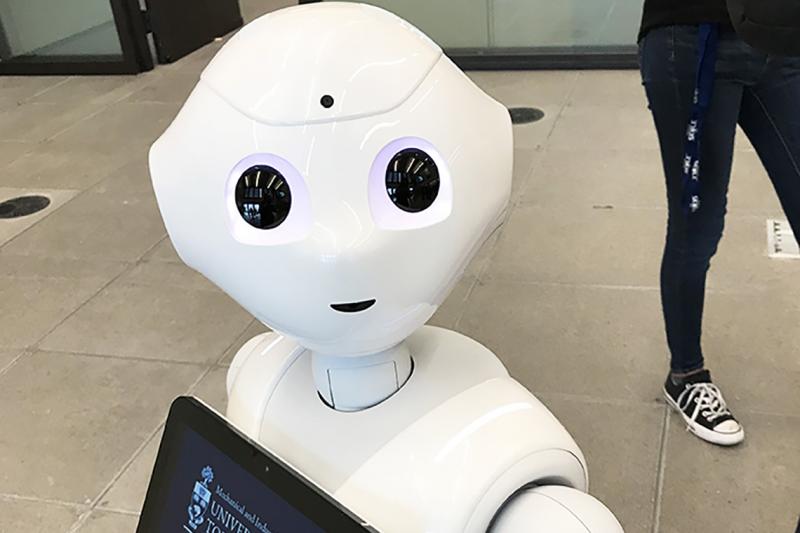 Pepper the robot is the newest addition to U of T Engineering's Autonomous Systems and Biomechatronics Lab. It is the first humanoid robot capable of recognizing and adapting to human emotions (photo by Liz Do)
---
Machine intelligence is quickly changing how engineers approach large-scale challenges – algorithms that help networks learn from data are powerful tools with applications that extend beyond speech, pattern and image recognition.
That's why University of Toronto's Faculty of Applied Science & Engineering is launching a one-day, intensive training course designed to equip today's engineers, as well as engineers of tomorrow, with the competencies to understand and apply this burgeoning technique.
With the recent launch of a new undergraduate engineering science major in machine intelligence – the first of its kind in Canada – the division is hosting Return & Learn: Alumni Machine Intelligence Bootcamp on Sept. 22. The event is open to all engineering alumni.
The boot camp provides a unique opportunity for engineering graduates to immerse themselves in the topic from multiple angles – from gaining new technical skills, to its latest applications.
"Machine intelligence has the potential to revolutionize many engineering disciplines and industries, with applications in transportation, health care and manufacturing, just to name a few," said Professor Deepa Kundur (BASc 1993, MASc 1995, PhD 1999), chair of the engineering science program and one of the event's committee members.
"U of T Engineering has a rich history of not only preparing engineering students to solve the world's most pressing problems, but engaging our alumni to ensure they can continue to make important contributions to our society. This event is a testament to that commitment."
Attendees will hear keynotes from international experts in the field, a panel discussion on aspects of machine intelligence, learn about the latest research from faculty and graduate students, and see the work of students in a real-time artificial intelligence hackathon.
Event speakers include U of T alumni and industry leaders including Isi Caulder (BASc 1989, MASc 1991, LLB 1995), a partner at Bereskin & Parr LLP; Matt Zeiler (BASc 2009), founder and CEO at Clarifai; Gary Saarenvirta (BASc 1988 MASc 2002), founder and CEO of Daisy Intelligence;Richard Romano (BASc 1988, MASc 1990), chair of driving simulation at the University of Leeds; and Lorne Rothman (BSc 1988 UC, MSc 1990), principal, data sciences at SAS Canada.
"It's very important for all engineers to learn about this technology so they can work in interdisciplinary teams and capitalize on opportunities to improve their company's products and services," said Romano, who will be sharing his pioneering research on automated vehicles.
For Romano, presenting at the boot camp is also an exciting homecoming. "Most years, I participate in U of T's Alumni Reunion but this is my first time presenting at my alma mater and I can't describe how exciting it is," he said. "I look forward to meeting other alumni and excited to present on our research, as well as watching and learning from the other presenters."
This event is supported by industry-leading companies in machine intelligence, including Daisy Intelligence, Dessa, Mobile Innovations and Insurance Portfolio Financial Services.