"A true champion": Fond U of T farewells for soon-to-retire Bruce Kidd
By Raquel A. Russell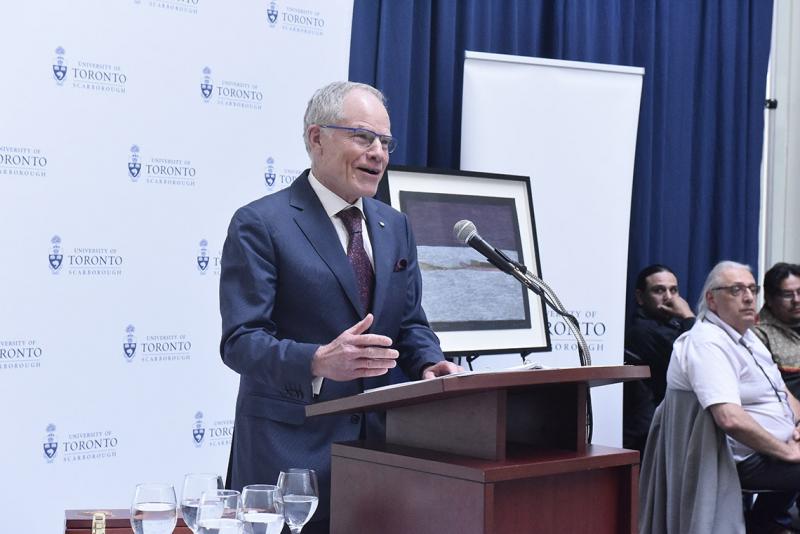 Bruce Kidd, U of T Scarborough principal and vice-president, speaks at a farewell reception in his honour. (photo by Ken Jones)
---
He may be retiring from his role as principal of University of Toronto Scarborough and vice-president of U of T, but Professor Bruce Kidd (BA 1965 UC) isn't giving up public service or his long-time advocacy of equity and diversity.
At a farewell reception on May 11, Kidd expressed his gratitude to friends, family and colleagues who gathered to honour his distinguished career.
He used the occasion to speak of the need for inclusive universities that promote critical thinking.  
"We say that diversity fuels excellence, but it's not just enough to bring people of difference together," Kidd said. "We must be intentional about how we eliminate barriers that are systemic and cause disadvantages for members of our community.
"If we do that, and I'm confident we can, UTSC will continue to grow and mature in ways that benefit all of our estates, partners, and surrounding community and continue to contribute in remarkable ways to Canada's best university."
Guests at Friday's reception spoke of Kidd's legacy of advocacy for diversity, equity and healthy living, and noted Kidd's work in making education more accessible for everyone, especially for the most marginalized.
"Bruce has been a true champion of our role as a city-building institution, and he's really used his time here to advance the status of the University of Toronto Scarborough as an anchor institution in the Eastern GTA," said U of T President Meric Gertler.
"As we were gearing up to celebrate this wonderful campus's 50th anniversary, Bruce Kidd – a great, Scarborough-born citizen of the University of Toronto – agreed to help lead this campus forward. I have to say as president, I was deeply deeply grateful, Bruce, when you said yes. Since then, he has built on its distinctive strengths, including its tradition of innovation in education and its commitment to the surrounding community."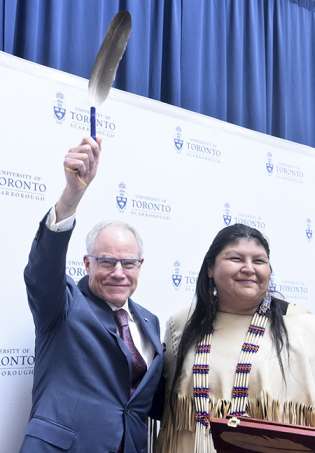 a leading voice for community and justice
"Bruce is a stalwart champion of rights and responsibilities, both here at the university and in society at large," said U of T Vice-President and Provost Cheryl Regehr.
"His advocacy and commitment are on the one hand very local, but on the other hand touches people across the world as he strives for justice in sport – as a societal and global equalizer."
In honour of Kidd, Regehr announced the Principal's Scholarship in Arts, Culture and Media – a new undergraduate scholarship that will be awarded to one or more undergraduate students each year on the basis of financial need.
During the reception, U of T Scarborough Traditional Elder Wendy Phillips presented Kidd with an Eagle feather (pictured left) - a rare, high honour that Phillips explained is given to individuals based on their character and leadership qualities. What an individual has done for their nation and community is considered, as well as "what they have done to preserve this Earth now and for future generations," said Phillips.
The presentation was followed with two honour songs, a marking of the occasion by the Red Hawk Singers – a group of Indigenous singers from Six Nations Grand River and Peterborough.
A champion for Kinesiology & Physical Education, and for Scarborough
Kidd, a former Olympian and celebrated Canadian track and field athlete, began his relationship with U of T on the university's track team while still in high school back in the early 1960s. Since then, he has served as an academic leader in roles such as the founding dean of U of T's Faculty of Kinesiology & Physical Education, and the warden of Hart House.
 Kidd became U of T Scarborough's interim principal in 2015. Integrating into a new and complex community like the Scarborough campus wasn't expected to be an easy task, said Professor Bill Gough, U of T Scarborough's vice-principal academic and dean. "However, almost overnight, Bruce embraced UTSC, and UTSC embraced him."
Gough noted Kidd's love for Scarborough, his constant exploring of local bicycle trails and the initiation of his now legendary campus walks into the beautiful Highland Creek Valley.
"[He] became our staunchest advocate, and his advocacy came with the gravitas of a deeply respected scholar and U of T administrator."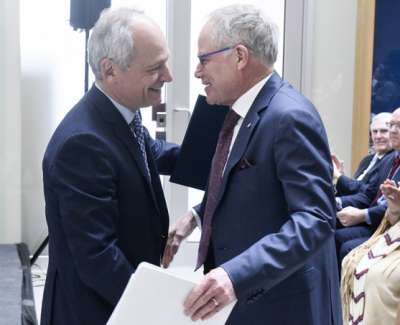 committed to student inclusion
Sitharsana Srithas, a former students' union president at U of T Scarborough, praised Kidd for his work with student leadership. 
"There's this stigma that says students and university administration don't get along, that administration is dismissive – but working with Principal Kidd has proved time and time again that that is not the case.
"Your commitment to equity and inclusion has always been something that inspired me and several other student leaders," she said.
working for gender equity in sport
Kidd will continue as co-chair for an advisory panel that recently created Ontario's Action Plan on Advancing Opportunities for Women and Girls in Sport. He is also co-chair of the federal-provincial-territorial working group on women and sport – a group created by federal, provincial and territorial governments to examine the challenges facing girls and women.
He is also chair of the selection committee for Canada's Sports Hall of Fame.
U of T Chancellor Michael Wilson concluded the remarks by quoting an interview in which Kidd spoke about his recent work with a new working group on gender equity in sport.
"'Although there's been tremendous progress regarding equity and inclusion, there's still much to be done. More needs to be done on engaging the majority of girls and women in Canada who are not involved in sport at all,'" quoted Wilson.
"This is vintage Bruce Kidd," said Wilson. "True to form he's not stopping to rest on his laurels – he has another race to run."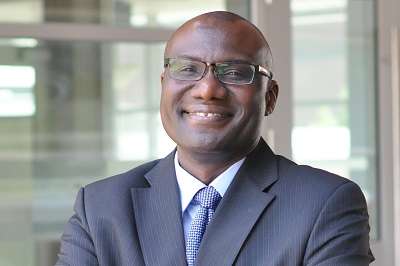 Professor Wisdom Tettey, a political scientist who is a leading researcher on the African diaspora, politics and media, has been appointed the new vice-president and principal of the University of Toronto Scarborough.