June 20, 2019 | Volunteer & Awards
Holocaust survivor Nathan Leipciger receives U of T honorary degree. Watch his Convocation address
By Rahul Kalvapalle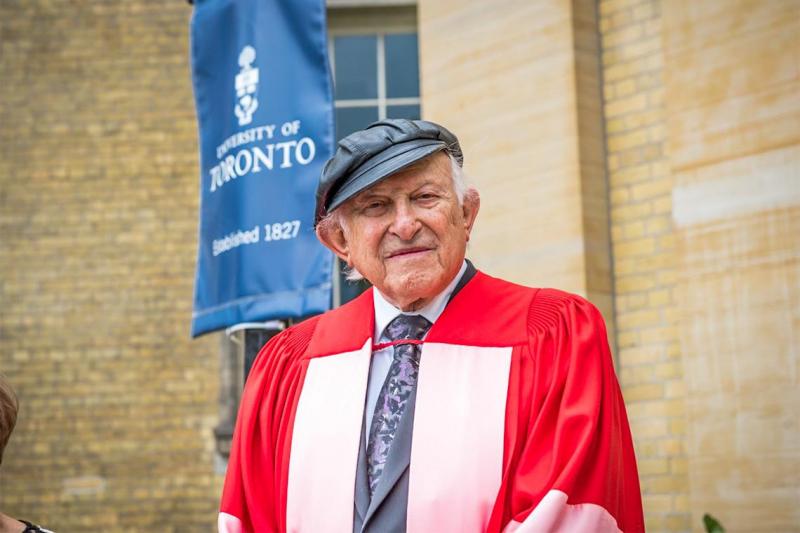 (photo by Lisa Sakulensky)
---
As a teenager, Nathan (Nate) Leipciger (BASc 1955, Hon LLD 2019) lived through the horrors of the Holocaust – forced to live and work in Nazi concentration camps, losing his mother and sister and enduring several close brushes with death before the Second World War eventually drew to a close.
Having suffered and witnessed first-hand the devastating consequences of hatred and war, Leipciger went on to dedicate his life to educating Canadians – and global citizens – about the dangers of racism and the importance of tolerance, inclusivity and dialogue.
Through thoughtful stewardship of various institutions involved in Holocaust education, Leipciger's efforts are credited with educating younger generations of Canadians about the Holocaust and teaching them the virtues of respect and acceptance.
For his "outstanding service to the public good as an educator, witness to the past and champion for justice," Leipciger was awarded a Doctor of Laws, honoris causa, from the University of Toronto – his alma mater.
Born in Poland in 1928, Leipciger endured three months in the notorious Auschwitz concentration camp as a teenager, with himself and his father Jack also sent to numerous other concentration camps before the war ended in 1945.
The pair immigrated to Toronto in 1948, where the younger Leipciger attended high school before going on to earn his degree in engineering from U of T in 1954.
Leipciger soon forged a successful career, founding a consulting engineering firm in 1962.
"It became a feature of our firm that we did not discriminate against anyone's religion or ethnicity," Leipciger wrote in his 2015 memoir, The Weight of Freedom. "Our office was a reflection of the immigrant population in Toronto – with each influx of refugees and every world crisis that produced refugees, we were in the forefront, accepting them."
Leipciger's company went on to operate successfully for nearly half a century until it was sold to Quebec engineering giant SNC-Lavalin in 2007. 
In the early years of his engineering career, Leipciger occasionally found time to speak to Jewish youth, friends and community members about his ordeal during the war. However, it wasn't until after his father's death in 1972, Leipciger wrote, that "the task of telling our history and suffering fell on me."
In the early 1980s, he helped oversee the creation of Holocaust Education Week by the Toronto Holocaust Remembrance Committee. The initiative is now recognized as the largest such Holocaust education project in the world.
He also served on the board of the Auschwitz-Birkenau State Museum in Poland for many years, guiding scores of people – from high school students to world leaders like Prime Minister Justin Trudeau – through the museum and former concentration camp site.
In recent years, he has also collaborated with Indigenous leaders and survivors of Canadian residential schools to highlight the common threads that run through systemic oppression and genocide, and to urge audiences to practice acceptance and respect.
---
Nathan Leipciger's message to the Class of 2019:
"Be truthful to yourself, and proud of your heritage. Continue to learn and be persistent in pursuing your goals. Promote mutual respect and mutual acceptance instead of conditional tolerance. Be an up-stander instead of a by-stander. Promote truth, understanding and compassion. Avoid generalization which can lead to prejudice. Examine your own prejudices with insight and truth. Have a positive outlook on life."