November 8, 2017 | Alumni
HELP STEER U OF T'S FUTURE
U of T begins the search for our next Chancellor and seeks two alumni governors in 2018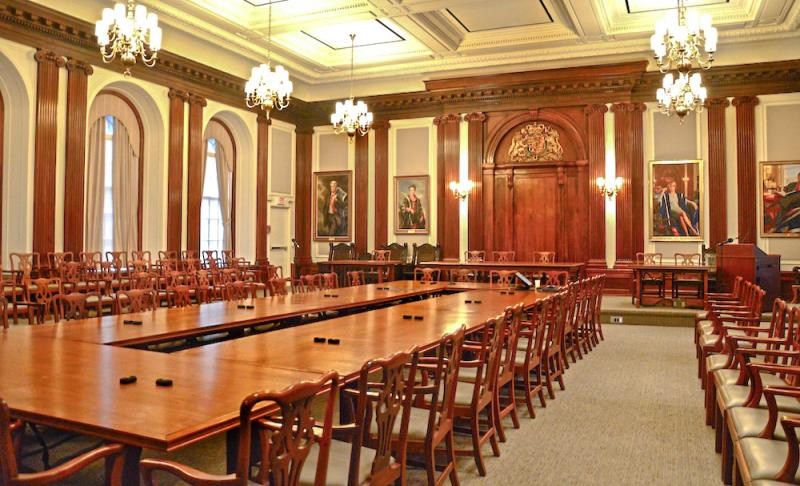 The Council Chamber at U of T. Photo by Kimberly Lyn.
---
The University of Toronto's College of Electors is beginning the search for our next Chancellor and seeking nominations for two alumni members. These roles are exciting opportunities to be part of the University's efforts to prepare the leaders of the future and to make the important discoveries that will solve urgent global challenges and reshape our world.
The Chancellor is the titular head of the University and acts as an ambassador, advocating for the vision set out by the President, representing the University to the greater community, and conferring degrees at Convocation. 
U of T's Governing Council is a 50-member body that oversees the academic, business and student affairs of the University. Eight of the members, the alumni governors, are drawn from the alumni community and elected by the College of Electors.
NOMINATE AN OUTSTANDING LEADER TO BE U OF T'S NEXT CHANCELLOR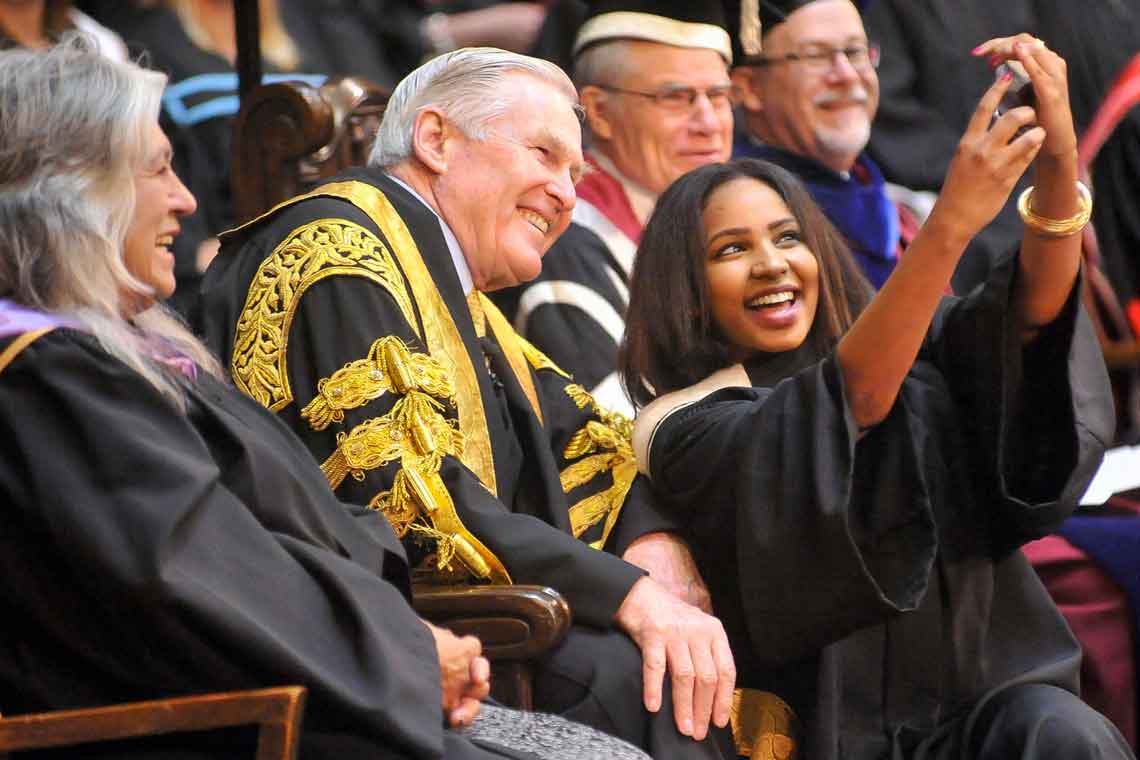 In June 2018, after two three-year terms, the maximum service length, the Honourable Michael H. Wilson will complete his tenure as U of T's Chancellor. His outstanding service has been marked by his passion for the University and his warm engagement with the alumni and student community, especially for his efforts to support student mental health services.
"Chancellor Wilson exceeded the College's expectations in his own exceptional way," said Scott MacKendrick, former chair of the College of Electors, upon Wilson's re-election for his second term. ʺHe made a consistently positive impact on those with whom he came in contact," added Judy Goldring, then chair of Governing Council.
The Chancellor Search Committee of the College of Electors invites nominations for the position of Chancellor of the University of Toronto for a three-year term, preferably commencing July 1, 2018. Nominations will be accepted as of Thursday, November 16, 2017 at 12 noon and will continue to be accepted until the Committee makes its recommendation to the College of Electors, the body responsible for the election of the Chancellor. Visit the College of Electors website to nominate a worthy candidate.
APPLY TO SHARE YOUR EXPERIENCE AND PASSION AS AN ALUMNI GOVERNOR
In 2018, two of the alumni governor positions are coming open. The University of Toronto's College of Electors will elect two outstanding alumni volunteers to hold these positions, which run from July 1, 2018 to June 30, 2021. Interested individuals are invited to submit an application between Thursday, November 16, 2017 at 12 noon and Wednesday, December 13, 2017 at 5 p.m.
To be an alumni governor at U of T, you should be an exemplary volunteer with an understanding of governance; committed to active participation and to learning, discovery and knowledge creation; and have special perspectives and connections to share that will enrich and diversify ideas. Ideal candidates, for example, might have experience in marketing, technology, management or entrepreneurship; be creative, strategic and critical thinkers with good judgement; have an international perspective and connections; be enthusiastic mentors who can inspire others.
Becoming an alumni governor is a significant time commitment. Be prepared to devote at least 150 hours each year, not only in attending regular after-work meetings from September to June, but also in serving on one or more of the Council's smaller governance bodies. Visit the College of Electors website to apply.