September 11, 2018 | Research
Four alumni among U of T scholars named fellows of prestigious national academy
By Mary Gooderham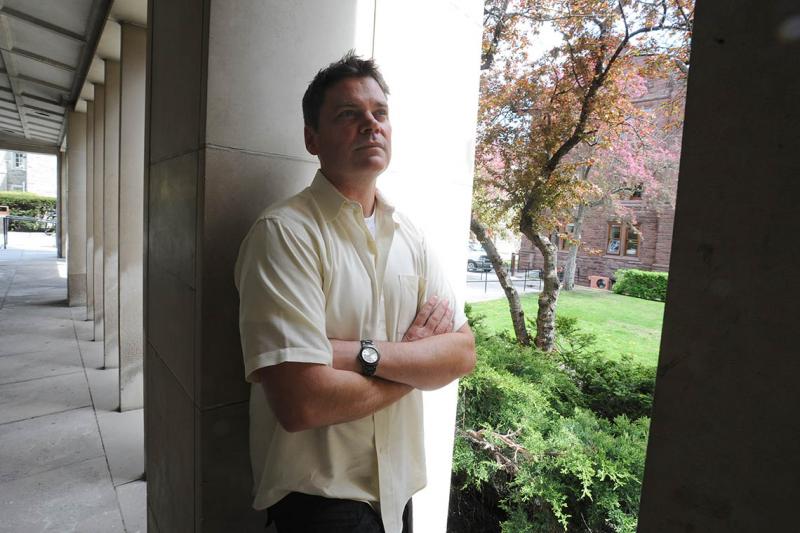 Mark Kingwell's newest research investigates the "politics of boredom," how people get trapped into cycles of addictive engagement through technology-enabled platforms like Twitter and Facebook (photo by Colin McConnell/Toronto Star via Getty Images)
---
Two scholars whose groundbreaking research is shaping public discourse on issues from the decline of democracy in the technological age to the dynamics of mass violence are among 11 University of Toronto researchers who have been named as fellows of the Royal Society of Canada.
They join more than 370 fellows at U of T recognized by the prestigious Royal Society for their outstanding scholarly, scientific and artistic achievement. The honour is considered one of Canada's major accomplishments for scholars. The 11 U of T scholars join more than 2,000 active fellows, distinguished scholars, artists and scientists in Canada. 
"The University of Toronto is proud of these 11 scholars named as fellows by the Royal Society of Canada," says Vivek Goel, vice-president of research and innovation. "Our top scholars are helping us to create new knowledge with their exemplary work and far-reaching impact, and are behind this university's place as one of the top research universities in the world."
The politics of boredom: how the digital age weakens democracy
Mark Kingwell (BA 1985 SMC), a professor in the department of philosophy as well as a critic and public intellectual who has written and spoken widely on political theory, contemporary politics, public art and architecture, says that he feels "privileged and grateful for this recognition" from the society.
"This is an engaged body of dedicated scientists, artists, writers and scholars, and I'm happy to be among them," he says. "We live in an age where intellectual work is disparaged and science is questioned. Every one of us who works in this scholarly life wants to think we're making some small contribution."
Kingwell's newest research investigates the "politics of boredom," how people get trapped into cycles of what he calls addictive engagement through "hollowed out" technology-enabled platforms like Twitter, Facebook and blog postings. The work, which is to be published next year in a book titled Wish I Were Here, notes "there is a risk of detachment and isolation under current conditions," Kingwell says. "People have lost faith in democratic institutions – and elected officials might be hastening that darkness."
He says that he feels lucky to be able to do a wide range of writing in his field, alternating scholarly work with an array of columns and essays in more popular media. He is a contributing editor of Harper's magazine in New York and a regular op-ed writer for the Globe and Mail. He has authored or co-authored 18 books of political, cultural and aesthetic theory, among them the national bestsellers Better Living, The World We Want, Concrete Reveries and Glenn Gould. His work has been translated into 10 languages.
Holocaust studies: talking openly and honestly about extreme violence
Doris Bergen, a professor in the department of history and Anne Tanenbaum Centre for Jewish Studies who is an internationally recognized historian of the Holocaust, is equally grateful to be joining the society.
"I'm really moved by this honour," says Bergen, the Chancellor Rose and Ray Wolfe Professor of Holocaust Studies. "It feels exciting to receive this recognition. I'm proud of what we've accomplished as scholars working on the Holocaust."
Bergen's research focuses on issues of religion, gender and ethnicity in the Holocaust and other cases of extreme violence. Her key work includes the role of Christian churches in Nazi Germany, with a recent project focused on German military chaplains in the Second World War.
Her book Twisted Cross showed how the Protestant church embodied a significant feature of Nazi society, while her book War and Genocide: A Concise History of the Holocaust, was based on extensive original research and addressed persistent questions about the Holocaust, such as who knew what, how and when did they know it, as well as how the targets and victims of assault tried to find meaning and maintain some form of community.
As the only endowed chair in Holocaust studies in Canada, with funding donated by the late Rose Wolfe, former chancellor of U of T, "it's a really important public role that I play," Bergen says, both in Canada and internationally. For example, she was a member of the core design team for the National Holocaust Monument in Ottawa, which opened in September 2017.
Bergen has helped shape the field of Holocaust studies and hopes to continue to raise the profile of "talking openly and honestly about cases of extreme violence," noting that "every society and every time period has its own demons and challenges. We've built a strong field of Holocaust studies here, and I think I've played an important role in that," she says. "I'm deeply proud to be part of the University of Toronto and my colleagues in the history department and Jewish studies."
U of T's 2018 Royal Society Fellows
The other nine University of Toronto scholars elected as fellows this year to the Royal Society of Canada are:
Raisa Deber, professor at the Institute of Health Policy, Management and Evaluation in the Dalla Lana School of Public Health
Stuart Foster (PhD 1980), professor in the department of medical biophysics at the Faculty of Medicine and senior scientist at Sunnybrook Health Sciences Centre
Paul Frankland, associate professor in the department of physiology at the Faculty of Medicine and senior scientist at the Hospital for Sick Children
Prabhat Jha, professor at the Dalla Lana School of Public Health and director of the Centre for Global Health Research at St. Michael's Hospital
Sheena Josselyn (PhD 1996), associate professor in the department of physiology at the Faculty of Medicine and senior scientist at the Hospital for Sick Children
Patricia O'Campo, professor at the Dalla Lana School of Public Health  and interim executive director of the Li Ka Shing Knowledge Institute at St. Michael's Hospital
Beverley Orser (PGMT 1988, PhD 1995), professor in the department of anesthesia in the Faculty of Medicine
Jay Pratt, professor in the department of psychology in the Faculty of Arts & Science
Christopher Thompson, professor at the Canadian Institute for Theoretical Astrophysics in the Faculty of Arts & Science