U of T law class valedictorian gained confidence by 'learning to embrace discomfort'
By Nina Haikara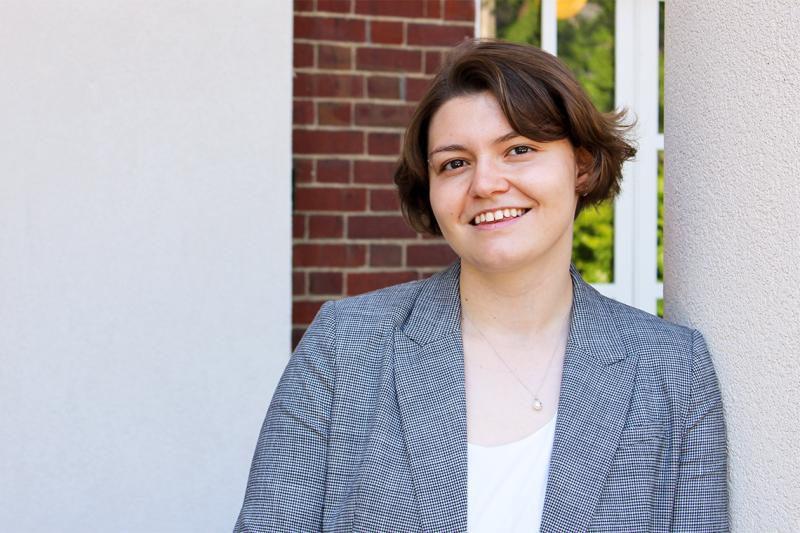 Ema Ibrakovic (photo by Nina Haikara)
---
It's often said that it's important to step outside of your comfort zone in order to learn.
For Ema Ibrakovic (JD 2022), a graduate of the University of Toronto's Faculty of Law Class of '22, simulated legal proceedings known as mooting were the key to discovering her calling and honing her oral advocacy skills.
At U of T Law, she and three other of the faculty's top mooters had the opportunity to present constitutional arguments to a panel of current and former Supreme Court Justices (and U of T graduates): Andromache Karakatsanis (BA 1978 VIC, Hon DHumL 2012 VIC), Mahmud Jamal (BA 1989 TRIN) and Rosalie Silberman Abella (BA 1967 UC, LLB 1970, Hon LLD 1990) (who retired last year).
"Mooting is fundamentally a scary thing because it puts you on your feet, in uncomfortable situations where you don't know what you're going to be asked or demanded of you," Ibrakovic says. "Learning to embrace discomfort – and get excited about it – is something that applies not just to mooting, but especially when you're beginning your professional career, and everything is new to you."
Learning to embrace discomfort – and get excited about it
For an aspiring criminal litigator like Ibrakovic, mooting was just the right exercise to develop the oral advocacy skills she will need in court. When she first got involved the activity as an undergraduate taking ethics, law and society at U of T's Victoria University, she initially worried that she would be bad at it. But she quickly fell in love with it and decided to apply to law school.
"Mooting has made me much more confident as a person – someone who wasn't involved in any kind of public speaking before," she says.
Her interest in mooting blossomed at U of T Law, where she coached fellow students, participated in competitions and served on the Moot Court Committee, helping to plan and execute the faculty's student mooting program. She was also president of the Litigation Association at U of T, a group that mentors first-year law students and allows upper-year students to learn more about litigation.
Ibrakovic won this year's Stephanie Fleur Couzin Medal for Mooting, for a student who has demonstrated outstanding performance in the mooting program as both a participant and coach.
It was great. My parents are proud
Ibrakovic was also voted the JD class valedictorian for exemplifying leadership and school spirit. "I'm very honoured. I was a little nervous when a friend told me they want to nominate me, but it at the same time, it was great. My parents are proud," she says.
As an active member of student governance, Ibrakovic has been a representative with Students' Law Society (SLS) and wrote a guide to help law students navigate their first year – known as 1L – and coordinated a 1L tutoring program.
Her involvement as a teaching assistant at Toronto Metropolitan University's Lincoln Alexander School of Law led Ibrakovic to coordinate a peer mentorship program for the school's first cohort.
"I essentially spearheaded a program where we connected Lincoln Alexander Law's first-year students to about 200 other upper-year students across the province. It was really rewarding," she says.
After graduation, she is due to complete two clerkships, the first at the Superior Court of Justice in Toronto and then the Court of Appeal for Ontario.
While excited for what comes next, Ibrakovic says she will miss her daily interactions with classmates.
"I hope that will happen again, at court, and throughout our careers. Law school is a nice little incubator – especially at U of T. People told me stories about how intimidating law school can be, but it couldn't be further from the truth, in my experience," she says.
"Everyone pushes you to be your best because everybody around you is very impressive."