COVID-19 vaccination: Watch "Talking shots" with alumna Science Sam and professor Christina Guzzo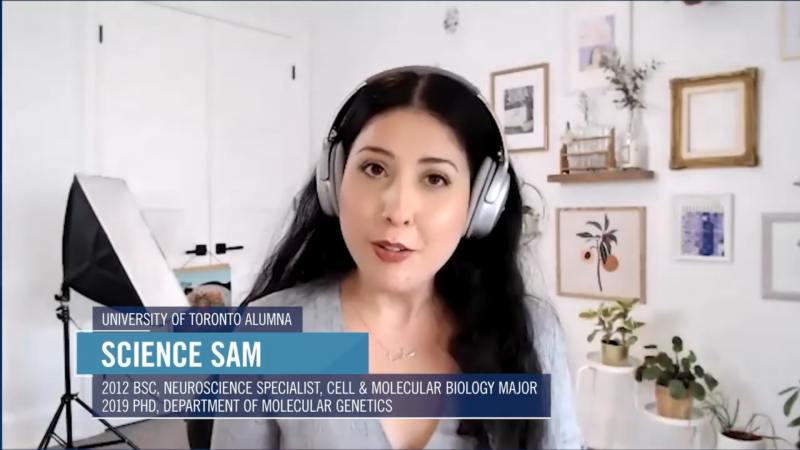 In this three-part series, Samantha Yammine (BSc 2012 NEW, PhD 2019) – a neuroscientist, science communicator and University of Toronto alumna otherwise known as "Science Sam" on social media – talks to Christina Guzzo, an assistant professor in the department of biological sciences at U of T Scarborough.
Part one covers the risks and benefits: Guzzo explains that vaccinated people have far lower rates of reinfection compared to those who contracted COVID-19. The risk of experiencing long-term effects from COVID-19 also far outweighs the chance of experiencing extremely rare complications from the vaccine, she says.
Part two looks at the popular belief that vaccines from certain pharmaceutical companies are better than others. Guzzo compares the pandemic to a sinking ship and the vaccines to a floatation device. "Are you going to think twice about it, analyze how it fits, how it looks, how long it will last – or will you simply take the flotation device and save your life?" 
Part three addresses the question of the vaccines' efficacy against COVID-19 variants. Guzzo points out that though there might be a chance that someone who is vaccinated might get infected with one of the variants of concern, "they are still protected. It may be a very mild infection, and those people don't spread the virus."