October 12, 2017 | Volunteer & Awards
The C. David Naylor University Fellowships are bringing the brightest students from Atlantic Canada to U of T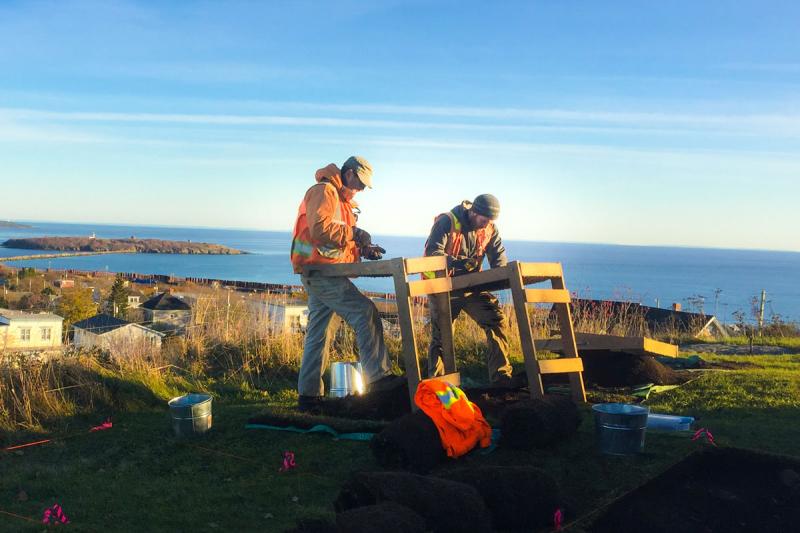 Ken Holyoke works on a dig at the Carleton Martello Tower National Historic Site, overlooking the harbour in Saint John, New Brunswick. Holyoke is one of two recipients of the 2017 C. David Naylor University Fellowships, founded by Saint John philanthropists Arthur and Sandra Irving. Photo by Shannon McDonnell-Melanson.
---
The University of Toronto School of Graduate Studies today announced that Amanda Loder of Nova Scotia and Kenneth Holyoke of New Brunswick have been named this year's recipients of the C. David Naylor University Fellowships. These fellowships created by Arthur and Sandra Irving M'96 through the Arthur L. Irving Family Foundation proudly honour the University of Toronto's 15th President, Professor C. David Naylor.
The C. David Naylor University Fellowships valued at $30,000,00 each, support students who have completed their undergraduate and sometimes their Masters degrees at Atlantic Canadian Universities. Students who are chosen as David Naylor Fellows demonstrate strong academic standing, and a commitment to community service.
Amanda Loder is a proud graduate of Acadia University, having completed her Master of Science in Biology.  She is remembered as a "supportive, encouraging and an organised leader of the Graduate Student Community at Acadia."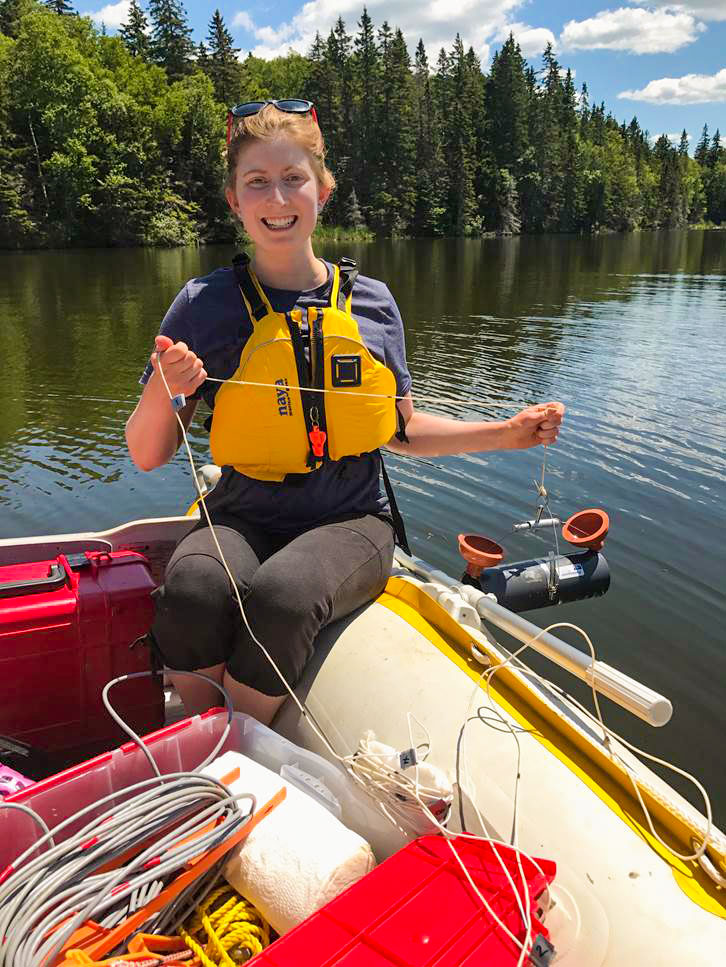 During her time at Acadia, Amanda was dedicated to research and she worked closely with Acadia University Professors and with Ducks Unlimited and other groups in the restoration of the wetlands.  She will continue this focus, exploring the implications of climate change for coastal wetland ecosystems in her PHD studies at the University of Toronto.
Amanda served as coach of the Special Olympics Swim Team and as president of the Acadia Environmental Sciences Students' Organisation.  She looks forward to assuming new leadership roles at the University of Toronto and in the greater community.
After receiving a Bachelor of Arts and a Master of Arts in Anthropology from the University of New Brunswick, Kenneth Holyoke worked for five years as a professional archaeological consultant. He is an active community builder and leader who is the co-founder and current vice president of the Association of the Professional Archaeologists of New Brunswick.  He has been involved with the charity, Prostate Cancer Canada since 2009.
In his doctoral studies, Holyoke plans to continue his research in the Lower St. John River region of New Brunswick by exploring how ancient Wolastoqiyik people understood and interacted with their landscape in prehistoric Northeastern North America.
Amanda Loder and Kenneth Holyoke join previous David Naylor Fellows, Billy Johnson, Nathan Doggett, Shuya (Kate) Huang and Neal Callaghan.
"We are happy to support outstanding students who have made their mark at Atlantic Canadian Universities, in this case, having been chosen from Acadia, UNB, Mount Allison, Dalhousie and St. Thomas Universities.  We will proudly watch their accomplishments in Graduate School at the University of Toronto knowing that they will emulate the qualities of David Naylor, the namesake of the Fellowship.  They will be excellent students, researchers, and leaders and will faithfully give back to the community."
For additional information on the fellowships, please visit the following site: http://www.sgs.utoronto.ca/currentstudents/Pages/Internal-Awards.aspx