December 11, 2018 | Alumni
"The backbone of good data": Why U of T alumnus Mehran Hydary says students would be wise to study blockchain
By Liz Do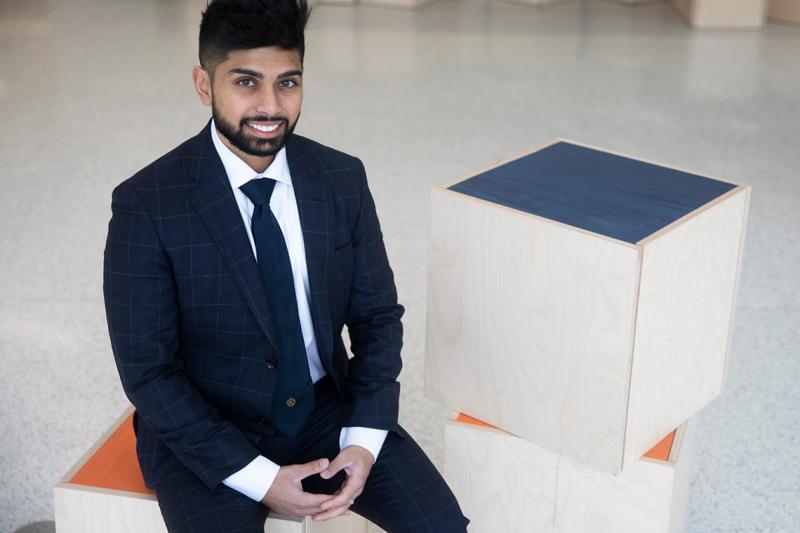 Mehran Hydary (BASc 2015), an alumnus of U of T's Faculty of Applied Science & Engineering, is the blockchain delivery lead at Deloitte Canada (photo by Tyler Irving)
---
Bitcoin and blockchain – the technology on which the cryptocurrency is built – were introduced together more than 10 years ago. These days, however, the application of blockchain technology has extended far beyond securing the mere transfer of Bitcoins. 
"Blockchain technology is positioned to become the backbone of good data – for any organization," says Mehran Hydary (BASc 2015), the blockchain delivery lead at Deloitte Canada. 
Hydary was one of the many U of T alumni who shared his career insights at the Faculty of Applied Science & Engineering's recent Graduate Engineering Networking Series on data analytics and artificial intelligence (AI).
A blockchain expert, Hydary breaks down the technology itself, the ways in which it is revolutionizing industries and how it could play a pivotal role in changing the Internet of the future.
Blockchain is like a complex Google spreadsheet
Bitcoin – a decentralized, digital form of currency – was born to eliminate the reliance on central banks or any single administrator to mediate the transfer of value from one person to another. 
"One of the core success factors of Bitcoin was the introduction of blockchain," explains Hydary.
Think of blockchain as a more complex Google spreadsheet: an up-to-date shared database available to all participants, with a layer of cryptography linking the information together. While multiple people share the same set of data, the cryptography ensures that the information on the blockchain is secure, valid, and that only the intended receiver can read the data. 
Blockchain technology is no longer tied to just Bitcoin. It can be applied to streamline data in almost any industry, as long as there are people sharing and relying on the same set of information. 
In the financial sector, blockchain can be used to speed up and simplify cross-border payments. In health care, it can be used to create a common, yet secure, set of patient data for doctors. In supply-chain industries, blockchain introduces the ability for different parties – competing companies, for example – to start sharing information to enhance their businesses. 
"What it enables is a streamlining of processes. Companies can now collaborate with their vendors, customers and competitors to start thinking about what blockchain-based data they can leverage to drive more efficient processes," says Hydary. "Blockchain eliminates that gap of trust between competitors."
He also sees blockchain playing a big role in the next evolution of the internet, counteracting the prevalence and spread of misinformation and "fake news."
"Right now, anyone can share information online. A lot of that information is good, and a lot of that information is unreliable," he explains.
"One day, we're all going to be on web platforms built at the intersection of machine learning, AI, the Internet of Things and blockchain. Developers will look at ways to leverage these technologies to validate information, validate identity, and ensure what is shared on the internet has merit – and a person – behind it."
How to become an expert in blockchain
During Hydary's fourth year at U of T, the price of Bitcoin crashed, losing much of its value over a few weeks
The Bitcoin crash made for an easy entry point for Hydary, who decided to buy one Bitcoin. "I knew that it was a great time to get familiar with the technology, given that the price of Bitcoin was low at the time, but also the subject was still gaining a lot of traction," he says.
Once he figured out the process to buy a single Bitcoin he started diving into the technicalities behind it. His expertise on blockchain led to his current position at Deloitte, where he helps deliver blockchain solutions to clients in a wide variety of industries, from financial services to health care. 
His advice to current students interested in blockchain or machine learning is to absorb as much knowledge as they can. Hydary says the space is evolving so fast, the sooner they get into it, the better positioned they will be to keep up and get ahead. 
Students can get involved in this rapidly evolving field in many ways, from learning to code and building end-to-end web applications with blockchain-based technologies, to pursuing U of T Engineering's new AI minor and certificate and participating in hackathons or networking events.
"Whether it's AI or blockchain, the magnitude of these technologies will make an impact on all industries," says Hydary. "I would tell students to figure out what these technologies are, or how they can be applied to the industry they want to pursue, and use that to become a pioneer and expert in that space."