January 25, 2018 | Alumni
What does it mean to be Black and educated? Alumna Chizoba Imoka delivers Hancock Lecture
By Geoffrey Vendeville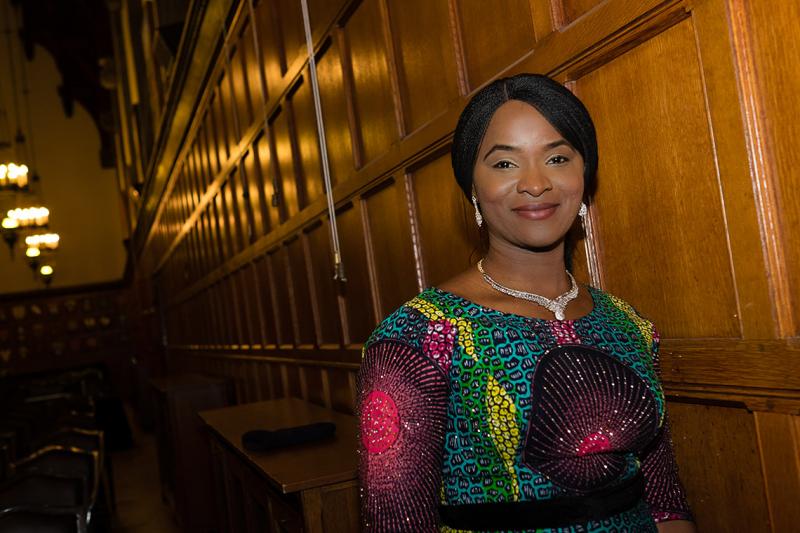 Chizoba Imoka, a PhD student at U of T's Ontario Institute for Studies in Education, delivered the 2018 Hancock Lecture at Hart House (photo by Geoffrey Vendeville)
---
When Chizoba Imoka (MEd 2014) was 16, she moved from Nigeria to Grande Prairie, Alta. for college. She was shocked by the kinds of questions she received about her background and kinky hair. People asked how she came to speak English so well, and they described her Nigerian clothes as a costume.
Since then she has pondered the Black student experience – striving for good grades, like anyone else, while confronting racism both subtle and overt. She has also thought about problems in the education system that may explain why it sometimes fails Black people – problems she says are by-products of colonialism.
Now a PhD candidate at the Ontario Institute for Studies in Education, she is completing a dissertation on student experiences in Nigerian K-12 system. She is investigating how the Nigerian school system is preparing youth to "facilitate decolonial and inclusive democratic transformation of the country." For this to occur, Imoka believes students must graduate from secondary school with a better and positive understanding of themselves, their cultural heritage and shared history with other Nigerian ethnic groups instead of a Eurocentric point of view.
Imoka is also the founder of Unveilling Africa, an organization that encourages civic engagement, community service and political advocacy among Nigerian youth. 
In the Margaret Hancock Lecture at Hart House on Tuesday, she spoke about what it's like to be a Black student in Canada based on her experience and research. 
Video courtesy of Daniella Kalinda and the Hart House Film Board
---
In the lecture – named after the first female warden of Hart House – Imoka recalled her experiences from college in Grande Prairie to her years at U of T. In Toronto, she says she had a condescending master's adviser who told her she wasn't eligible for a scholarship because she hadn't gone to school in Canada. If the adviser had read her file, he would have known that wasn't true. "If I were a white South African he would never have made that assumption," she told U of T News in an interview.
In the later years of her PhD, she met professors who helped her learn more about herself and changed her way of thinking about education. From professors like George Dei, John Portelli and Njoki Wane, she learned that many of her negative experiences in school were linked with colonialism. 
---
After her lecture, Imoka shared the stage with Kofi Hope (BA 2006 INNIS), a U of T alumnus and Rhodes scholar.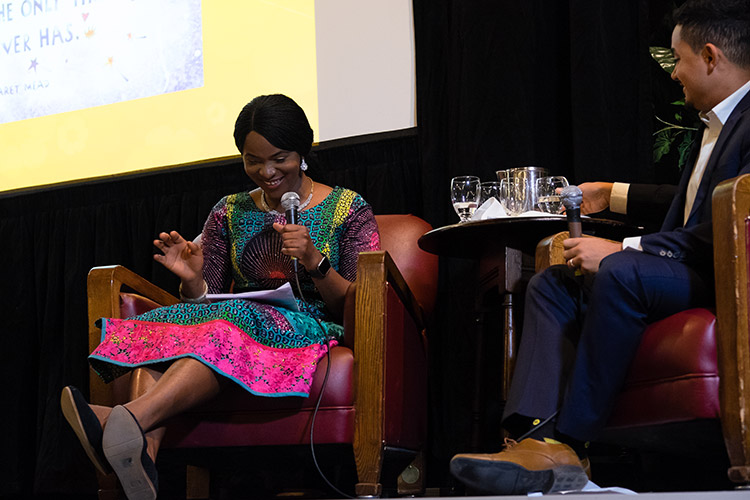 Hope started the CEE Centre for Young Black Professionals, an organization that helps create economic opportunities for Toronto's Black youth. In his conversation with Imoka, he said Black students at U of T are still grappling with the same problems they faced while he was a student and president of the Black Students' Association – such as the need for a more diverse faculty. (A Black faculty working group is currently exploring that topic.) 
"When we think about people of African descent, we know educational systems can perpetuate anti-Black racism," he said, "but they can also provide social mobility and a platform for us to overturn oppression. In this contested space, it's up to all of us – especially those who are Black students right now – to not disengage but find ways to grapple with this system, use it for your own empowerment and kick open doors for those who are on the outside."
Imoka is hopeful things will get better for Black students. She ended her talk with a quotation from cultural anthropologist Margaret Mead: "Never doubt that a small group of thoughtful, committed citizens can change the world; indeed, it's the only thing that ever has."
In an interview after her lecture, Imoka said: "I hope everybody at the very least would have left the hall feeling urgently the need to rethink their identity in this space called Canada, in the world we live. Once people start to redefine themselves in an anti-colonial lens, it's a different kind of perspective that will be helpful to begin a critical conversation on how to move forward."