From selfie smiles to doting dogs: Moments to remember from #UofTGrad19
By David Lee, Geoffrey Vendeville, Lisa Lightbourn and Nicholas Iwanyshyn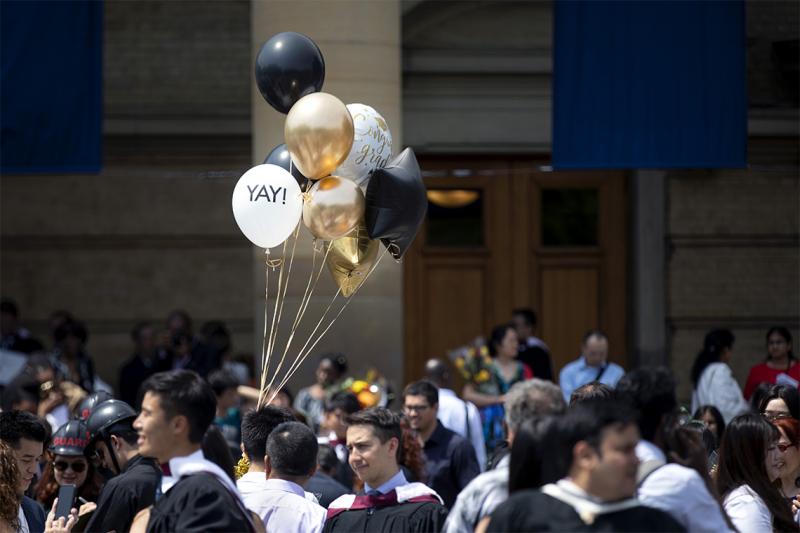 A cluster of celebratory balloons floats above the crowd in front of U of T's Convocation Hall (photo by Nick Iwanyshyn)
---
It was another spring convocation for the books as University of Toronto students said goodbye to their textbooks and accepted their degrees in Convocation Hall. 
U of T photographers captured the excitement at the 32 ceremonies this month. See if you can spot yourself, your friends or family below: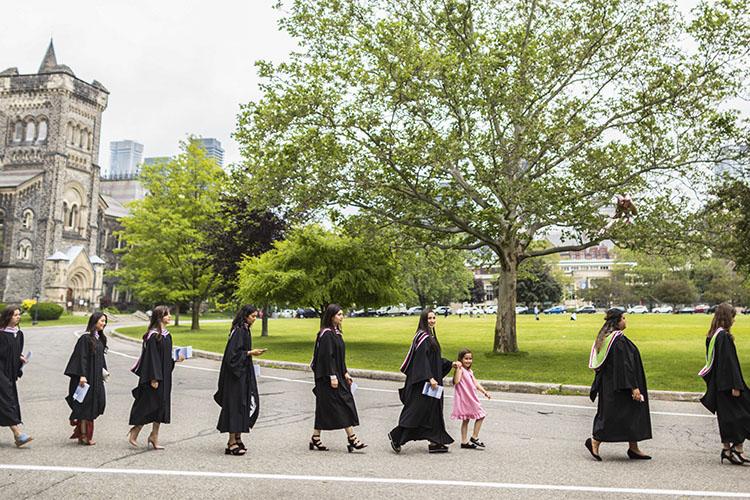 A little girl's pink dress stands out among the black robes and greenery on the downtown Toronto campus.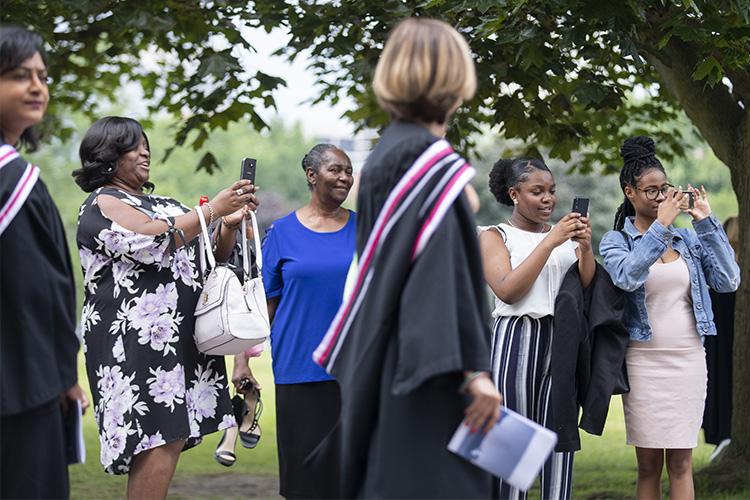 With looks of pride on their faces, attendees take out their phones to record a convocation procession on front campus.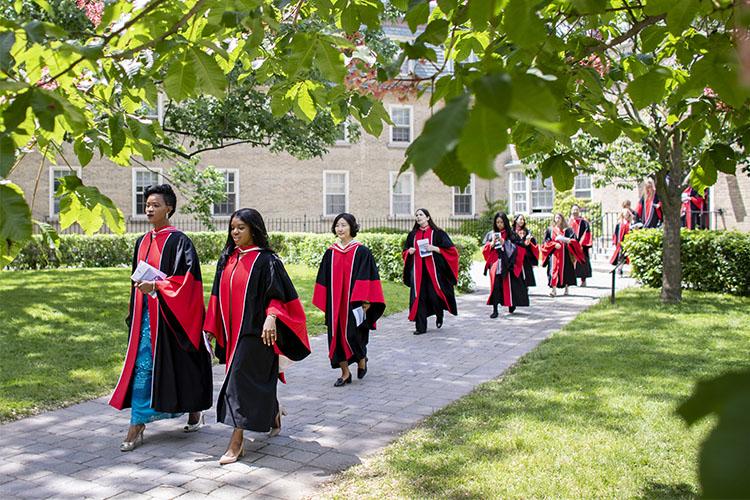 Graduates from U of T's Ontario Institute for Studies in Education walk across the Sir Daniel Wilson Residence's quad on their way to Convocation Hall on June 11.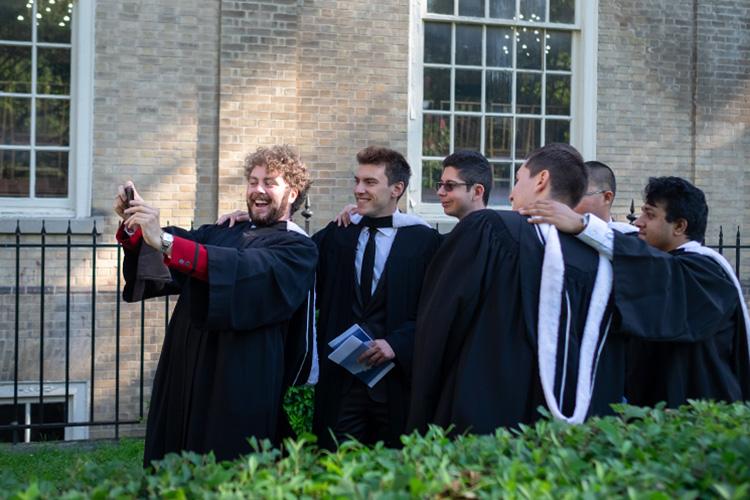 The sunlight co-operated with this group of graduates posing for a selfie on June 11, the morning of Innis College and Trinity College students' convocations.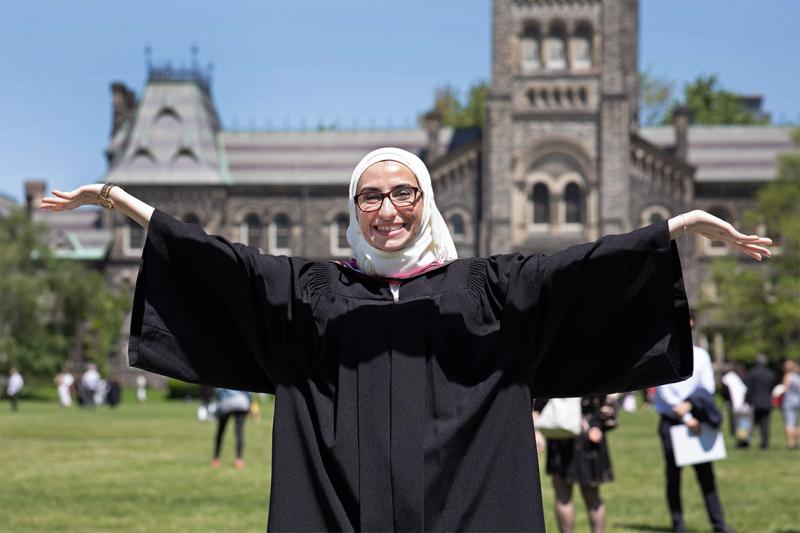 Syrian activist Noura Al-Jizawi (MGA 2019), a one-time leader of the uprising against the regime of Bashar al-Assad, came to U of T through the Scholars at Risk program, which provides bursaries to students with refugee status. On June 7, she graduated with a Master of Global Affairs from the Munk School of Global Affairs & Public Policy. She celebrated her convocation with her daughter Naya, who was born during her studies and is known affectionately as the "MGA baby" by Al-Jizawi's classmates.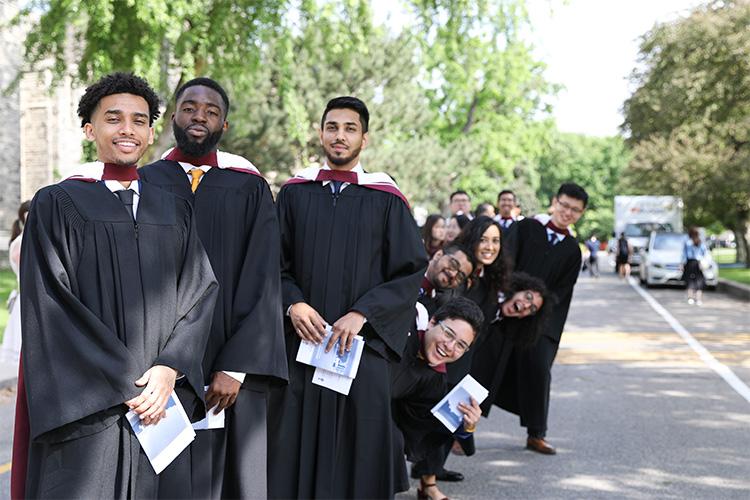 Engineering graduates strike a pose mid-procession to Convocation Hall. 
Is there a more parental gesture than taking a photo with an iPad?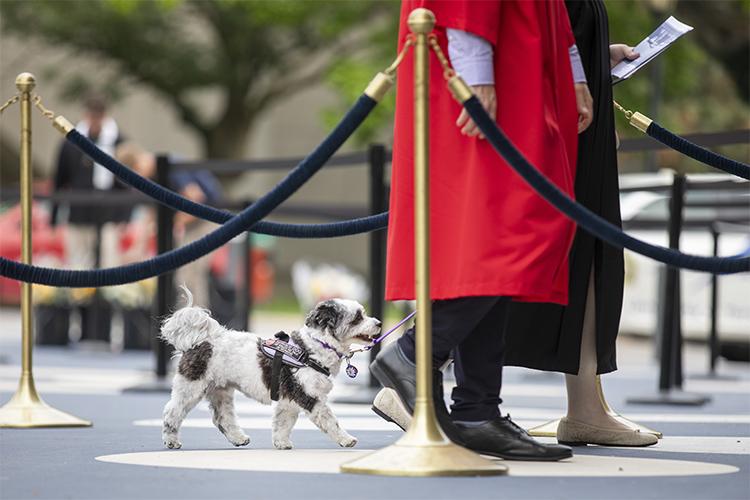 Through every lecture, presentation and exam, Emily Wright's service dog Kailey has been by her side during her time at U of T's Ontario Institute for Studies in Education. So it was only fitting that Kailey accompanied Wright on the day she accepted her Master of Teaching degree.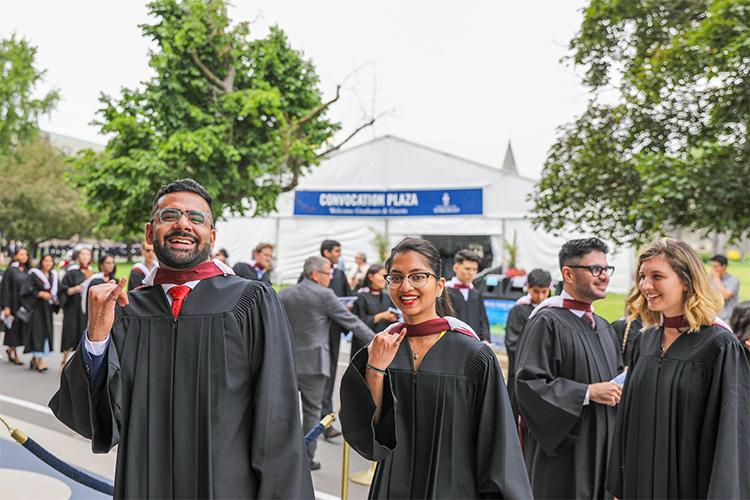 Some of U of T's newest engineering graduates show off the iron rings around their pinkies. The ring has been bestowed on Canadian engineering graduates since 1922. It serves as a symbol of pride in the profession and a reminder to uphold its highest standards.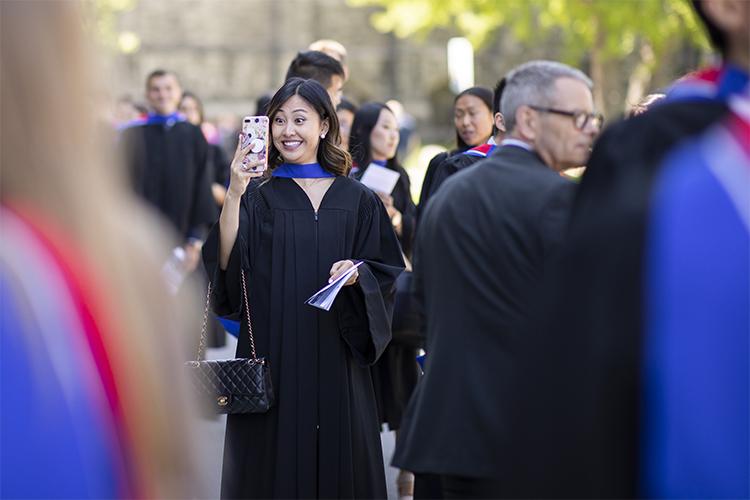 A graduate of the Faculty of Medicine is all smiles at her convocation on June 3.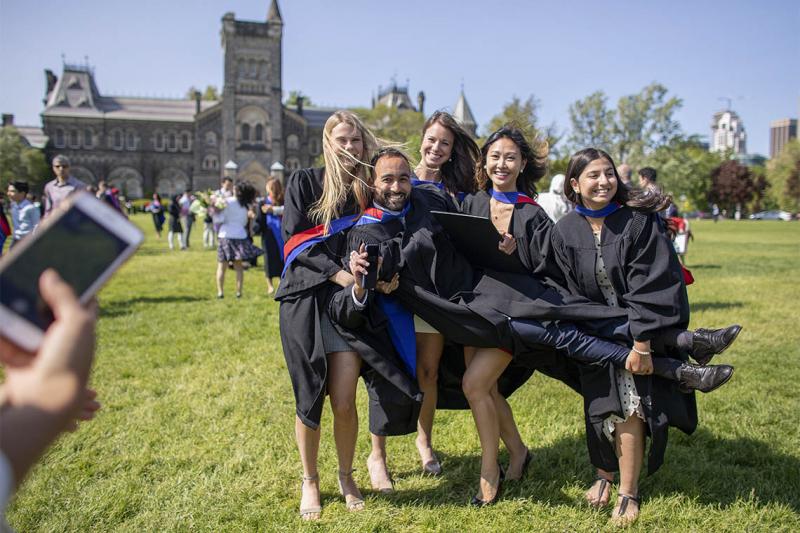 New medical doctors pose for a stylish group photo in front of University College.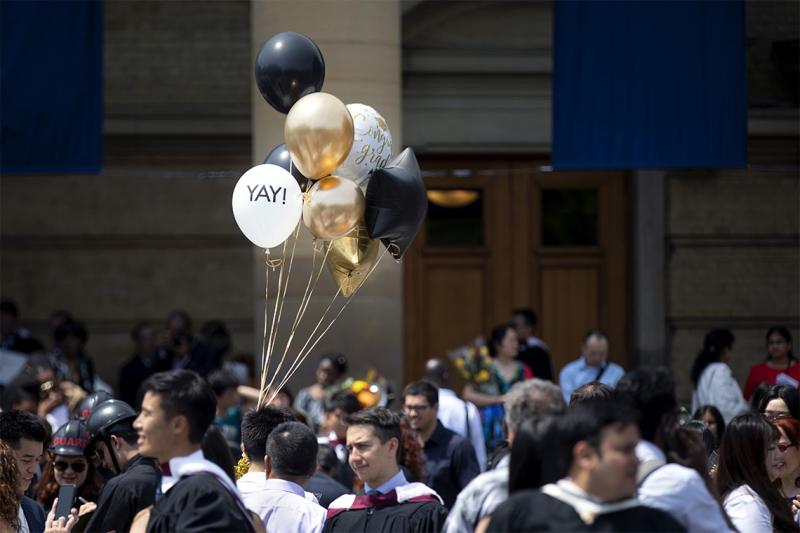 Balloon or thought bubble?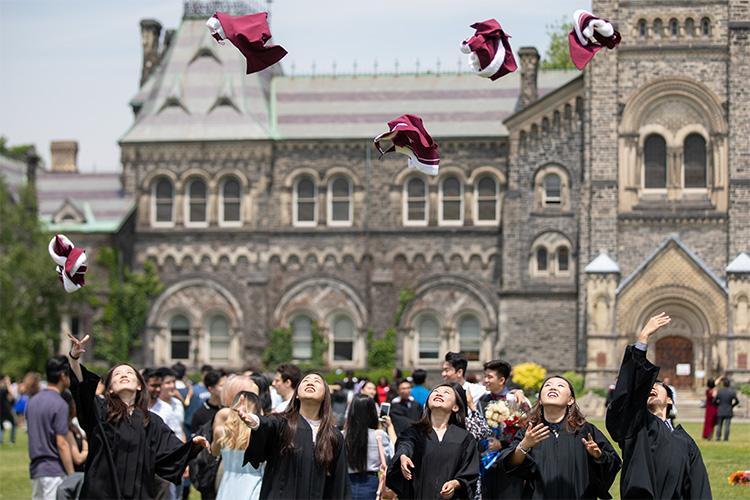 (photo by Nick Iwanyshyn)
Hats off – and hoods – to this year's graduates.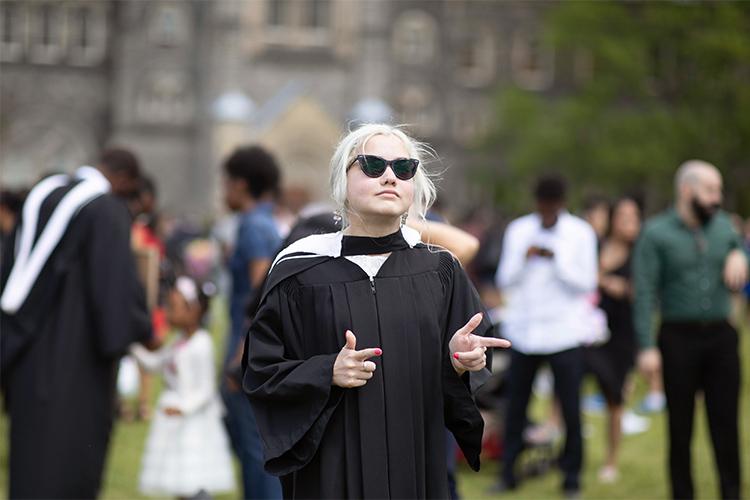 Last year, Elspeth Arbow  (BA 2019 INNIS) won a student leadership award for her involvement on campus and dedication to her studies – all despite having to undergo a double lung transplant for the second time in her life. The cinema studies student, who has cystic fibrosis, recovered from the operation to complete her studies, travel through Europe and land a coveted internship at the Toronto International Film Festival.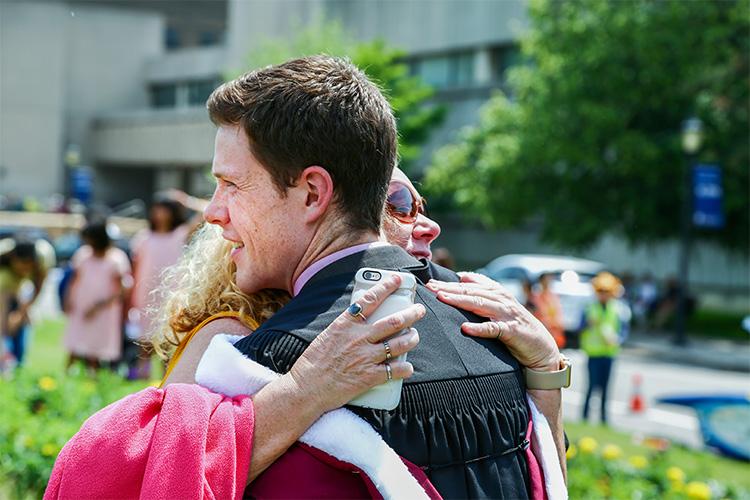 There were hugs galore outside Convocation Hall as new graduates celebrated with family and friends.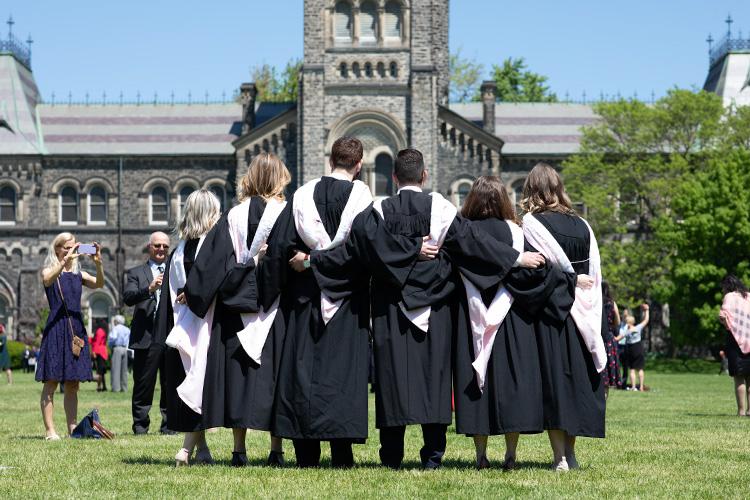 Convocation marks the end of a chapter in students' lives, but not their friendships.