In photos: U of T shows its colours for Pride Month
By Geoffrey Vendeville and Nick Iwanyshyn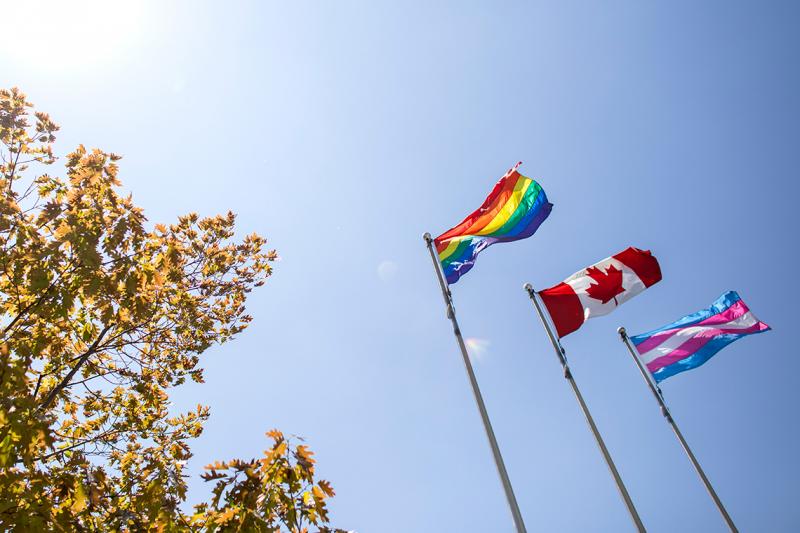 The rainbow flag, Maple Leaf and Trans Pride flag fly at Varsity Stadium (photo by Nick Iwanyshyn)
---
The University of Toronto came together to show its support for the LGBTQ+ community at multiple events across the three campuses this month. Here is a selection of images that detail the colourful displays: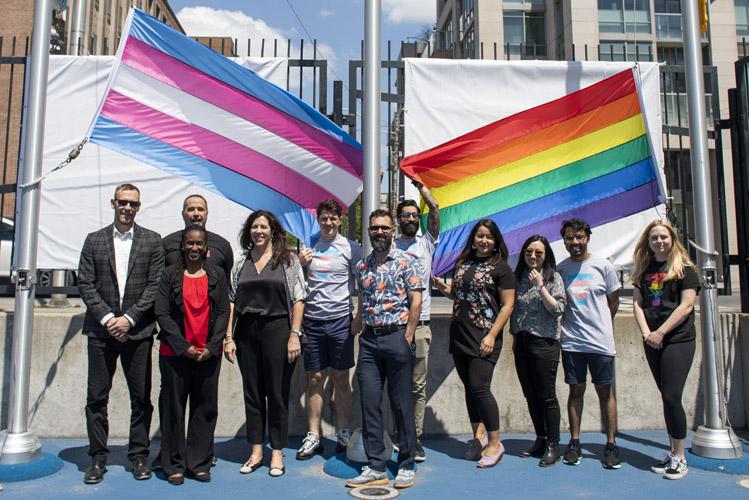 The festivities kicked off with the traditional flag-raising ceremony at Varsity Stadium on June 6. "The raising of the Pride and trans flags, along with other campus events, promotes necessary LGBTQ+ visibility, celebrates our differences and emphasizes our support and allyship with our queer and trans communities," said Kelly Hannah-Moffat (MA 1992, PhD 1997) (fourth from left), U of T's vice-president of human resources and equity.
It's the second year that U of T has flown the blue, pink and white Trans Pride flag. Monica Helms, a U.S. Navy veteran and trans activist, designed the flag in 1999 using the traditional colours for boys and girls, with a white band separating the two to represent intersex, gender non-conforming or transitioning people.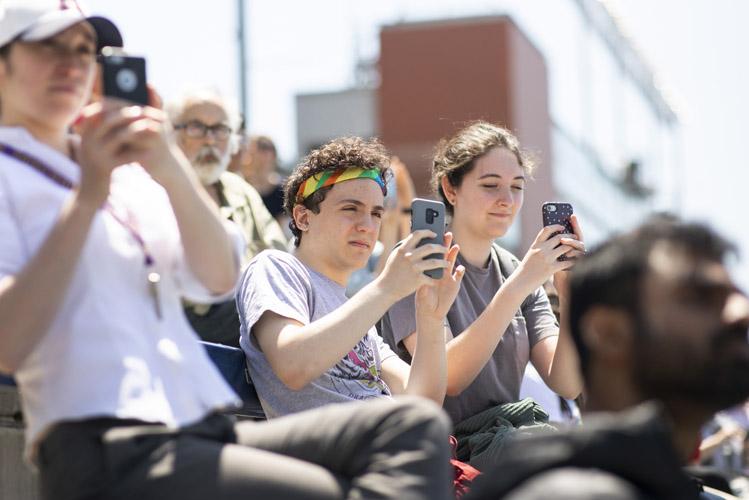 People in the audience snap pictures during the flag-raising ceremony at Varsity Stadium.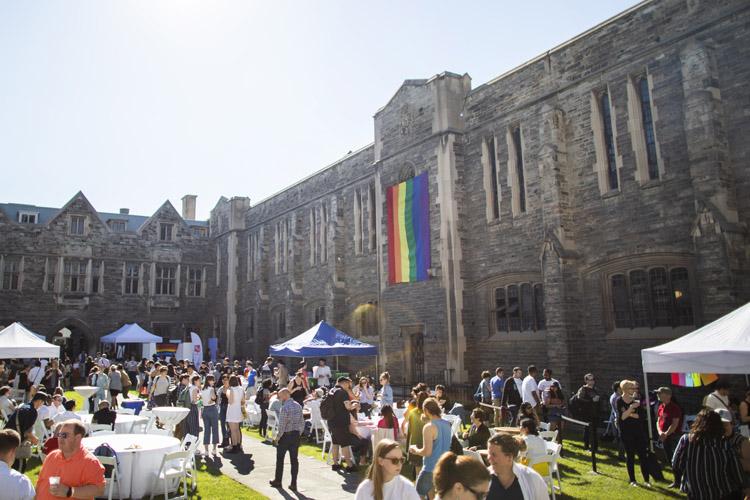 One of the signature events on the Pride at U of T calendar, Pride Pub brings the community together for barbecue, dancing and a communtiy fair with local LGBTQ+ organizations. This year's edition featured Samba Elegua, a percussion ensemble inspired by Brazilian music.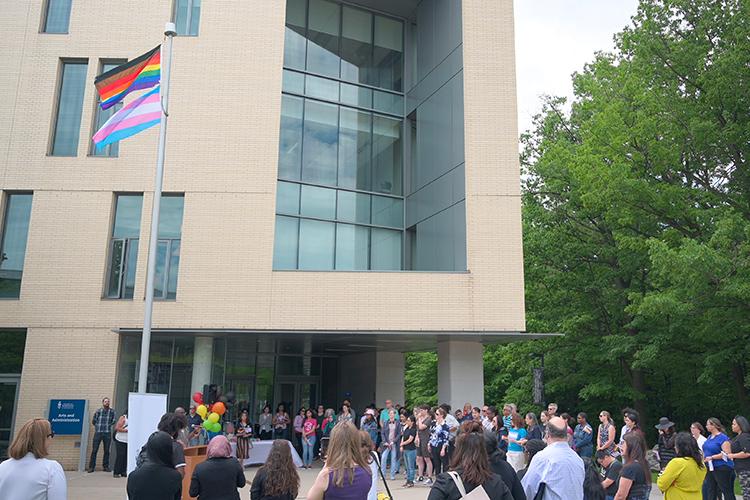 The U of T Scarborough community came out in large numbers for a flag celebration.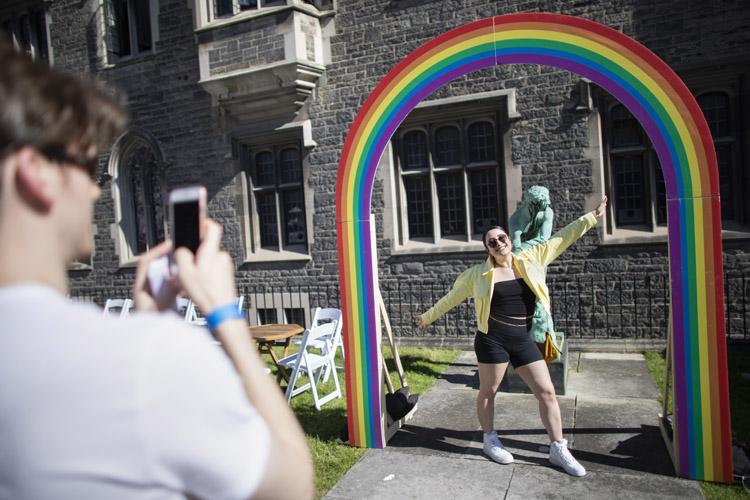 The Instagram-friendly rainbow frame at Hart House was a popular spot for pictures. Pride Pub is organized by U of T's Sexual & Gender Diversity Office and Hart House.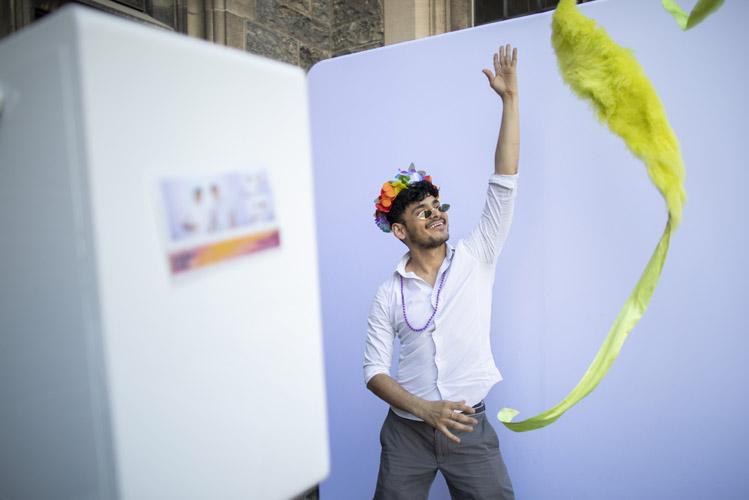 Partygoers could also record their memories of Pride Pub at a photo booth installed for the occasion.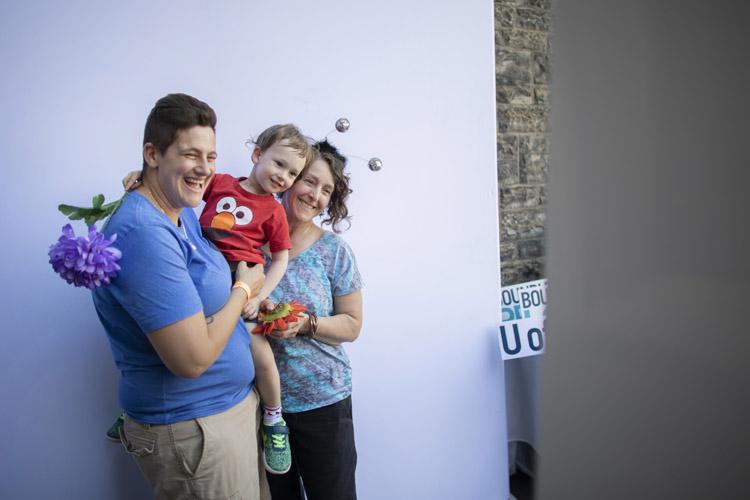 Cuter than the real Elmo? A family poses for a portrait at the photo booth.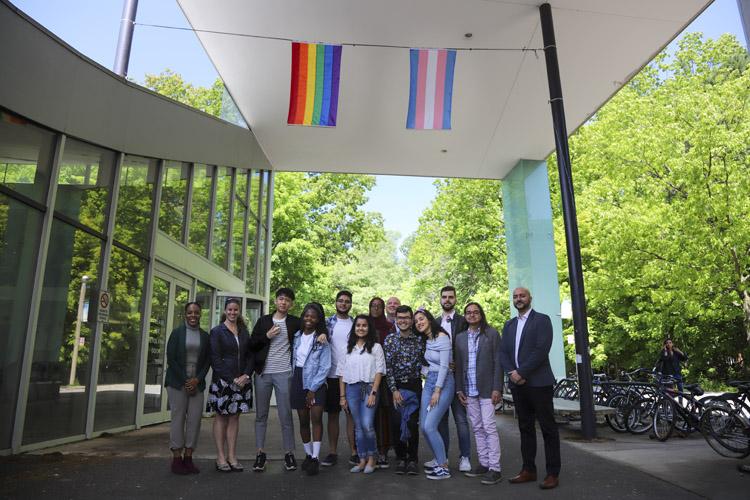 The festivities took place on each of U of T's campuses. U of T Mississauga held its flag-unfurling ceremony on June 6 at the UTM Student Centre with representatives from the Equity & Diversity Office, UTM students' union, OUT @ UTM, human resources, dean of student affairs and the Indigenous Centre.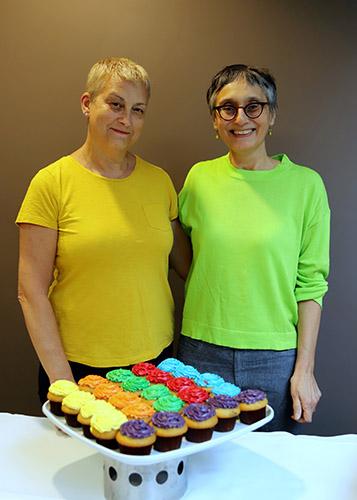 Angela Lange, U of T Mississauga's acting vice-principal, academic and dean, and Amrita Daniere, acting principal, pose with Pride-themed cupcakes.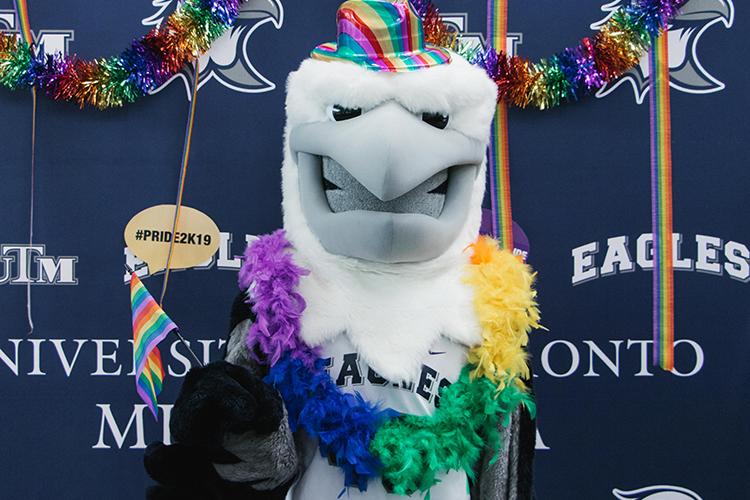 U of T Mississauga's mascot, Eddy the Eagle, sporting colourful plumage in honour of Pride month.