New grad reaches new heights — literally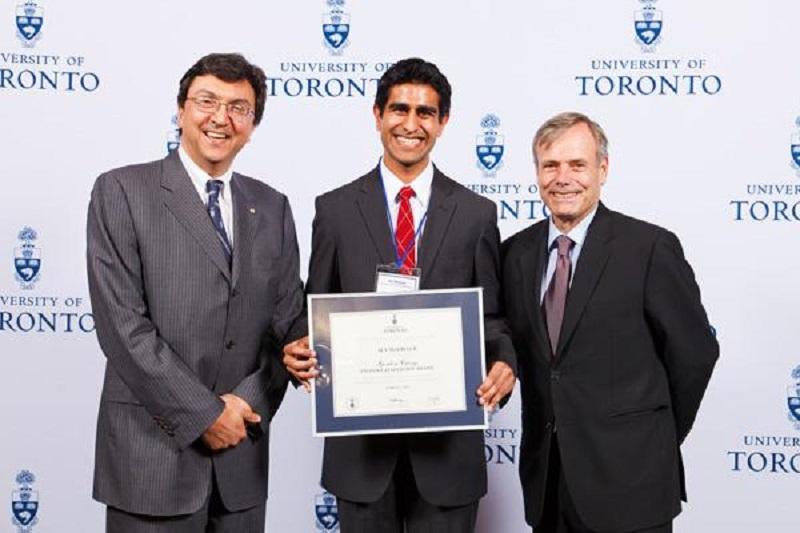 Aly Madhavji receiving a 2012 Gordon Cressy Student Leadership Award.
---
Aly Madhavji (BCom 2012 UTM), 22, graduated from the University of Toronto Mississauga last June with a Bachelor of Commerce and a month later headed to East Africa where his parents were born. For weeks, he had been preparing for the tortuous and sometimes dangerous climb up Kilimanjaro – the highest free-standing mountain in the world at 5,895 metres.
Preparation involved going on 10 kilometre runs and walking instead of taking the subway, but he actually had been preparing for most of his life. He was born in Burnaby, B.C., and then lived near the foot of Grouse Mountain in Vancouver. He hiked up that mountain and the one in Whistler as a kid and took part in a 50 kilometre trek in northern B.C.
He wasn't quite prepared for what he experienced on Kilimanjaro. "About 15 minutes from the peak there was a clear sky and the sun was shining," Aly said. "All of a sudden it got really cloudy and there were 100 miles per hour winds. It was tough to walk."
But he and his friend Aleem Kassam, a UTM student, made it, along with their guides. "Your jaw freezes, your eyelids start to freeze," he said. Luckily he had eight layers of clothing on top and seven on the bottom.
The final leg to the peak started at midnight, and took seven hours. They had to be careful where they walked because it was pitch black and icy. And Aly had been careful to pack his home-made sign, put together just before they left camp, about being a U of T alumnus.
Aly can't remember who took the picture of him and the sign, either Aleem or one of the guides. "We thought it would be a real cool thing to do, and that Barbara Dick (Assistant Vice-President of Alumni Affairs) would get a kick out of it."
The trip up took five days, and the trip down the mountain two days. And that was treacherous as well. "There was so much loose rock, you would slide quite a bit. I used the exact same kind of movements I learned while skiing in B.C. to manoeuvre down the mountain."
Aly was a member of the U of T governing council while a student and a Cressy Award winner for fundraising for the Food Bank and Student Refugee Program at UTM. He is now is a financial services analyst with PricewaterhouseCoopers.
If his hike to the top of Kilimanjaro taught him any lessons he could pass on to other graduates it would be that "it's definitely good to do something out of your comfort zone. The accomplishments are worth it. They build confidence for your future success."