April 4, 2017 | Volunteer & Awards
Respect is the start of real student support
Jonathan Hamilton-Diabo receives the 2017 Chancellor's Award in the Emerging Leader Category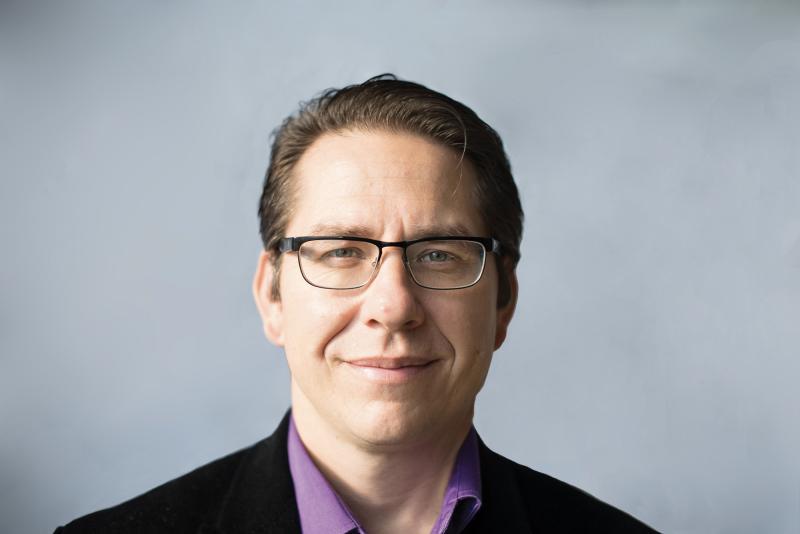 A voice, a builder of community and a creator of connection. For many Indigenous students, faculty and staff at U of T, that person is Jonathan Hamilton-Diabo (MTS 2011), Director of First Nations House.
For his dedication to human rights and ensuring that opportunities exist for all, Hamilton-Diabo, who is also co-ordinator of the Council of Aboriginal Initiatives, has been awarded one of the two 2017 Chancellor's Awards. The honour recognizes his commitment to advancing knowledge of Indigenous cultures, his ability to build relationships, and his untiring support of Indigenous students, staff and faculty.
Hamilton Diabo grew up in Kahnawà:ke Mohawk Territory in Quebec, and came to U of T in 2000 after working at the Native Canadian Centre of Toronto. His role is to make sure U of T's Indigenous students can access culturally relevant support services, and to offer all the University's students a chance to learn about and engage with Toronto's Indigenous communities.
Most recently, he served as co-chair of the University of Toronto's Truth and Reconciliation Steering Committee, an undertaking that involved many different voices. With co-chair Professor Stephen Toope, Hamilton-Diabo brought people together and produced a report that was handed over to Provost Cheryl Regehr and President Meric Gertler in an Entrustment Ceremony. "There was a lot of emotion and a lot of nerves," Hamilton-Diabo says. "But what an experience, and what an opportunity."
Hamilton-Diabo understood the magnitude of the project. It wasn't just about getting the work done, but about how the document would provide guidance to the University. "The committee connected with the energy at the University and it sparked ideas in areas that have not focused on issues in this way before," he says.
Hamilton-Diabo also co-chaired U of T's Council on Aboriginal Initiatives, with Professor Keren Rice. He recognized the importance of representing every campus and faculty, giving Indigenous staff and faculty a voice, and honouring the community's Elders. As a result, Elders of Indigenous communities across Ontario share knowledge with U of T through an Elders Circle. The Council's work has also enabled the University to pilot a language initiative, the Supporting Aboriginal Graduate Enhancement program (SAGE) and a mentorship program for Indigenous students in the Faculty of Law.
His efforts also led to U of T's Statement of Acknowledgement of Traditional Land, in consultation with First Nations House and its Elders Circle, scholars and University officials. The statement is now read at Convocation, groundbreakings, conferences and gatherings.
In building community, Hamilton-Diabo fosters relationships with colleagues, students and government officials with equal ease and respect. He's the first one to reach out to new Indigenous faculty and staff, connecting them with colleagues and recruiting them to participate in programs. And he's a teacher, too, so he knows the power of experiential learning. Once, he arranged a visit of Student Life staff to The Woodland Cultural Centre, which offers a Museum Education program led by an Elder and is the site of The Mohawk Institute, a residential school.
A big Habs fan, he likes to bond over hockey. But most of all, he wants people to see him as a person, and he knows the importance of treating students as people, too. "I keep in mind the reason why we are here: it's all for the students, and our current students are our priority," he says. "We're a part of their journey, and when they come to us, they trust us to listen to them, to hear what they are saying and to understand what they are going through."
Hamilton-Diabo helps students build community within a large institution. "The staff at First Nations House are phenomenal. They know that every student is unique; they all have different experiences and learning about them helps us to be there for them," he says. "Whatever we do, we really have to respect our students, so they know we come from a place of really caring about people."
---
The Chancellor's Awards recognize administrative staff members for exceptional leadership in their role in advancing the University's mission. Two awards are presented each year, one for an Influential Leader and one for an Emerging Leader. They are awarded under the banner of the Awards of Excellence, a program recognizing the outstanding members of the University of Toronto community who have made rich and meaningful contributions to the University, their communities and to the world.
Alumni Relations within the Division of University Advancement is the steward of the Awards of Excellence program on behalf of the University of Toronto Alumni Association, and co-ordinates the vital contributions of other University stakeholder groups toward this prestigious award program.
Jonathan Hamilton-Diabo and the other 2017 Awards of Excellence recipients will be honoured at a recognition event on April 27.