Next Steps Conference

Next Steps Conference
Kick-start the rest of your life
Students and recent grads, make the leap from school to career with confidence.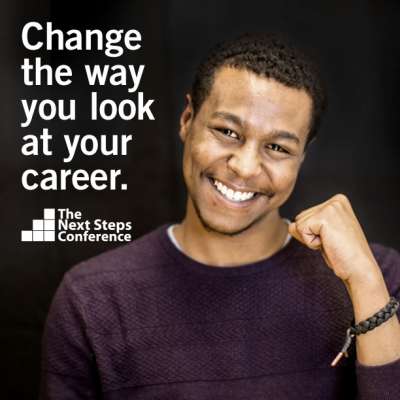 One Weekend To Change The Way You Look At Your Career
Thank you to everyone who attended the 2018 Next Steps Conference! Delegates, tell us what you enjoyed and how we did for a chance to win.
Thank you also to our wonderful alumni volunteers, without your dedication and support this conference would not be possible. 
Next Steps is an intensive and energizing two day conference for transitioning students and recent U of T graduates. The conference is held annually at the end of the academic year. It is part career exploration, part preparation for life after graduation, and a great way for students and young alumni to start building their professional networks.
With a variety of speakers, career exploration panels, personal and professional development seminars and networking opportunities, Next Steps lets you explore options you may not have even known you had.
Who Should Attend?
If you are a graduating student in the Faculty of Arts & Science, a recent University of Toronto graduate or a younger student who would like to start planning for the future, then Next Steps is for you. Participation is free.
Not an Arts and Science Student?
A number of spaces for students from other faculties and schools have been reserved.
Recent Alumni?
If you're a recent alum interested in advice and support, you're more than welcome to attend. Register as a delegate and attend the whole conference or simply come to the Alumni-Student Networking Event.
CONTACT US
Alumni Volunteers
Volunteers are the strength of this conference. Come share your experience and insights; volunteer as a panelist, speaker or career ambassador. Younger alumni who have recently entered the workplace are especially in demand. Your story can be deeply meaningful to students planning their next steps. To volunteer as an Alumni Ambassador at the Alumni and Student Networking Reception on Friday, January 19th, please register here. If you have any questions about volunteering at the Conference, please email Carlo Siochi at carlo.siochi@utoronto.ca
Conference Programming
Do you have suggestions for programming or content at the conference? Contact Erika Bailey at e.bailey@utoronto.ca
General inquiries? Email NextSteps@alumni.utoronto.ca
Learn more and register
Brought to you in partnership with U of T Alumni Relations, Career Exploration & Education and the Faculty of Arts & Science.