U of T Where You Are: Rethinking Robotics: Worms, tongues and elephant trunks
Join fellow alumni to learn more about continuum robotics
Robotics. The word conjures up so many images: industrial mechanical arms; Roomba vacuums; Star Wars droids; drones; and humanoids. But continuum robotics is vastly different from conventional robots and from the ideas created by the world of entertainment and science fiction. Inspired by biological trunks (e.g. elephant), tentacles, tongues and worms, continuum robots (or invertebrate robots) have a joint-less body which is continuous and exhibits a flowing, curved and flexible structure.
In her presentation, Dr. Burgner-Kahrs will provide an overview of continuum robot designs and touch upon the research advancements and challenges in modelling, planning and controlling motion. She'll also discuss their application in performing minimally invasive surgeries that cannot be done with conventional surgical tools. With their complex bending motions and skillful manipulation of even the smallest spaces, think about what continuum robots can do that is not possible with serial robot arms, mobile robots or humanoids!
Register to watch live on November 26th or, if you're unable to tune in, you can register to view on-demand after the broadcast date.
---
Jessica Burgner-Kahrs is an Associate Professor with the Departments for Mathematical & Computational Sciences, Computer Science, and Mechanical & Industrial Engineering, the founding Director of the Continuum Robotics Laboratory, and Associate Director of the Robotics Institute at the University of Toronto. From 2013 to 2019 she was with Leibniz University Hannover, Germany and from 2010 to 2012 with Vanderbilt University, USA. She received her Diploma and Ph.D. in Computer Science from Karlsruhe Institute of Technology (KIT), Germany in 2006 and 2010 respectively.
Her research focus lies on continuum robotics and in particular on their design, modelling, planning and control, as well as human-robot interaction. Her fundamental robotics research is driven by applications in minimally-invasive surgery and maintenance, repair, and operations. In 2015, her research was recognized with the Heinz Maier-Leibnitz Prize, the Lower Saxony Science Award in the category Young Researcher, and she was entitled Young Researcher of the Year 2015 in Germany. The Berlin-Brandenburg Academy of Sciences awarded her the Engineering Science Prize in 2016. She was elected as one of the Top 40 under 40 in the category Science and Society in 2015, 2016, and 2017 by the business magazine Capital. In 2019, Jessica was nominated as Young Global Leader from the World Economic Forum.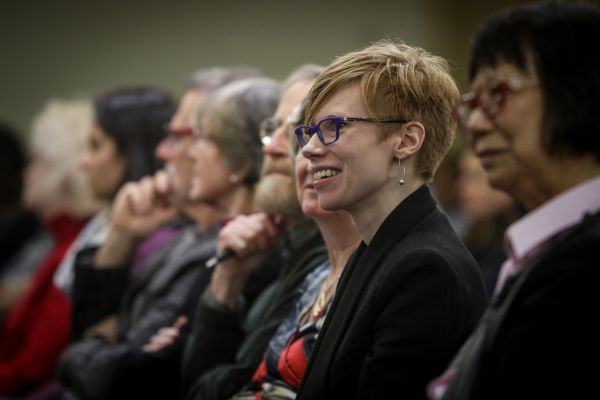 U of T Where You Are
U of T Where You Are
U of T's popular lecture series comes to where you live and work, in cities around the world. Stay informed, get inspired!
More about this lecture series