Online
U of T Where You Are: Music, Health, and Well-Being: An Exploration of Music and Medicine
Join fellow alumni to learn about the professional role music therapy plays in health care.
This event was recorded on October 28th and will be available on demand November 9th.
For centuries, music has been a platform for emotional expression, a form of human communication, and a tool for cross-cultural connection. While music is often used intuitively as a modality for healing, the professional role of music therapy in health care has been steadily gaining momentum as an allied health practice, and an approach to care.
In collaboration with the University of Toronto "Where You Are" Alumni series, the Faculty of Music and the Temerty Faculty of Medicine, we invite you to take a deep dive into the role of music in health care, with music therapist Dr. SarahRose Black (MusBac 2009, MA Music 2010, PhD 2020), cellist Dr. Andrew Ascenzo (MusBacPerf 2009, MA Music 2011, DMA 2019), and psychiatrist Dr. Gary Rodin.
This lecture recital will feature varying perspectives on the role of music in health care, as well as a live performance and a live Question and Answer period.
Join us to explore the intersections between music and health in new and exciting ways!
---
Dr. Gary Rodin is the joint University of Toronto and University Health Network Harold and Shirley Lederman Chair in Psychosocial Oncology and Palliative Care. He is the Director of Cancer Experience at the Princess Margaret Cancer Centre and is also the director of the Global Institute of Psychosocial, Palliative and End-of-Life Care and a professor of psychiatry at the University of Toronto.
Dr. Rodin has published widely on the psychiatric and psychosocial aspects of cancer and other medical illnesses.
---
Dr. SarahRose Black holds a PhD in Music and Health and a Masters degree in music education from the University of Toronto, in addition to a Masters in music therapy from Wilfrid Laurier University
She is the founder and coordinator of the first music therapy program at the Princess Margaret Cancer Centre and Kensington Hospice in Toronto. Her clinical work and research is focused on quality of life for acute palliative care, hematology, and hospice populations.
---
Dr. Andrew Ascenzo is a cellist, conductor, composer and the Artistic Director of Music in the Atrium, a weekly concert series, now in its 23rd season, at Toronto's Princess Margaret Cancer Centre.
Andrew is a three-time U of T graduate, earning his Bachelors and Masters and Doctor of Musical Arts from the Faculty of Music.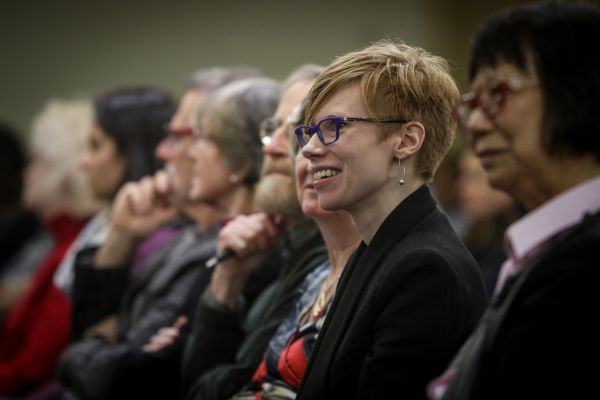 U of T Where You Are
U of T Where You Are
U of T's popular lecture series comes to where you live and work, in cities around the world. Stay informed, get inspired!
More about this lecture series