Greater Toronto Area
Canadian Perspectives Lecture Series
Stimulating minds since 1976
Event Details
Oct 10 - Nov 26, 2018
Carlton Cinema
20 Carlton Street, Toronto, ON M5B 2H5
Mondays: 1-3 PM | Wednesdays: 10 AM-12 PM
Our Fall 2018 series bundle price is $75 or you can attend individual lectures for $15 each.
Carlton Cinema
Greater Toronto Area
Canadian Perspectives Lecture Series
Stimulating minds since 1976
For more than 40 years, the Senior Alumni Association (SAA) has been offering insightful lectures to alumni and friends of U of T through its Canadian Perspectives Lecture Series.
The lectures are open to everyone from new graduates to seniors, and to alumni and non-alumni. Each series is $75 or you can attend individual lectures for $15. Join us this fall for one or both of these informative lecture series.
fall 2018 lecture schedule
Lecture topics and speakers are subject to change.
---
WEDNESDAYS, 10 AM - 12 pm
October 10 - Is Canada a Nation or a Notion?
Professor Mark Kingwell
Department of Philosophy, University of Toronto
October 17 - Designing, Approving and Building in Toronto's Tall Tower Context
David Pontarini, Founding Partner
Hariri Pontarini Architects
October 24 - Microplastic Pollution
Professor Chelsea Rochman, Assistant Professor
Department of Ecology & Evolutionary Biology, University of Toronto
October 31 - How Canadians are Conquering the Ballet World
Katherine Barber, Author; Founding Editor, Canadian Oxford Dictionary
November 7 - De Monstris at Fisher Library
David Fernandez, Rare Book Librarian
Thomas Fisher Rare Book Library, University of Toronto Libraries
November 14 - Frozen Dreams: Dead Reckoning in the Northwest Passage
Ken McCoogan, Author
November 21 - Optimizing Learning and Memory as we Age
Dr. Andrée-Ann Cyr, Researcher
Glendon Cognitive Health Centre, York University
---
MONDAYS, 1 PM - 3 PM
October 15 - Ontario Municipal Board
Ian Flett, Lawyer
Eric K. Gillespie Professional Corporation Barristers & Solicitors
October 22 - Colonial Toronto on a Dangerous Frontier: 1793 - 1841
Professor Carl Benn
Department of History, Ryerson University
October 29 - Safer Cities
Dr. Allan Bonner, President
Allan Bonner Communications Management Inc.
November 5 - Stratford and Shaw: The 2018 Seasons in Review
Lynn Slotkin, Theatre Critic; Editor,The Slotkin Letter
November 12 - Sleep: The Final Frontier
Dr. Christopher Li, Respirologist and Sleep Disorders Specialist
St. Michael's Hospital
November 19 - Canadian Mental Health Policy
Steve Lurie, Executive Director
Canadian Mental Health Association (CMHA) Toronto
November 26 - 1,500 Years of Faith at the Syrian Monastery of St. Moses
Dr. Robert B. J. Mason, Archaeological Scientist, Royal Ontario Museum;
Associate Professor, Department of Near & Middle Eastern Civilizations, University of Toronto
---
To register online (VISA, MC), please click on 'Register Here' on the right hand side of this screen. >>>
To register via mail, please download the form and mail in to the address provided with your cheque payment.
Please kindly note that we are unable to offer refunds on purchased lectures; be sure to select only the lectures you would like to attend. We appreciate your understanding of this policy.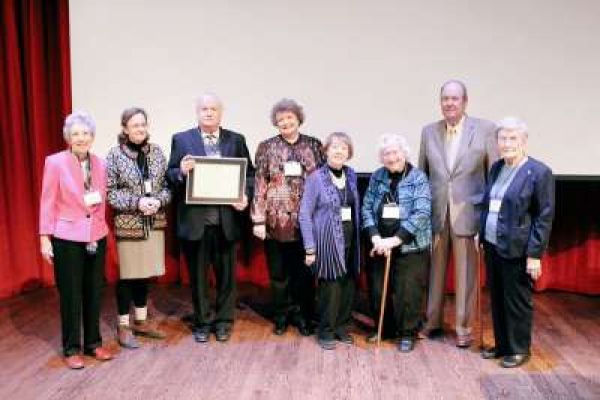 Senior Alumni Association
Senior Alumni Association
The Senior Alumni Association brings together U of T alumni who are 55+, acting as a lifelong source of opportunities to learn, grow, give back and share wisdom and experience.
Find out more