Credit cards for U of T alumni
ENJOY BETTER CREDIT THAT SUPPORTS U OF T
Give back, get back - it's simple with the MBNA Rewards® credit card. Each time you make an eligible purchase, MBNA contributes a portion of proceeds to the University of Toronto to support alumni and student initiatives, and you receive reward points you can redeem for travel, gift cards, cash back, and more! Accelerate your reward points by making common purchases like groceries. Open to U of T alumni, faculty and staff.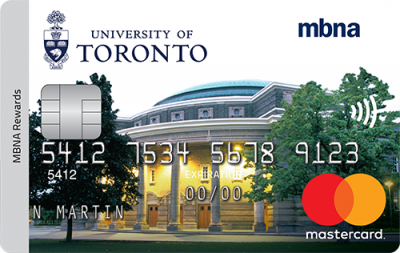 UNIVERSITY OF TORONTO MBNA REWARDS® CREDIT CARD
Accelerate rewards points on common purchases! 
Take advantage of an everyday rewards card with no annual fee. 
2 points‡ for every $1 spent on eligible restaurant, grocery, digital media, membership and household utility purchases until $10,000 is spent annually in the applicable category
1 point‡ for every $1 spent on other eligible purchases
Each year, you will receive Birthday Bonus Points‡ equal to 10% of the total number of Points earned in the 12 months before the month of your birthday, to a maximum Birthday Bonus each year of 10,000 Points.
Receive 2,500 bonus points†† after your first eligible purchase within the first 90 days of account opening
Receive 2,500 bonus points†† once enrolled for e-statements within the first 90 days of account opening
Redeem points‡ for cash back, brand-name merchandise, gift cards from participating retailers, charitable donations, and travel.
Quebec residents, please click here to apply now