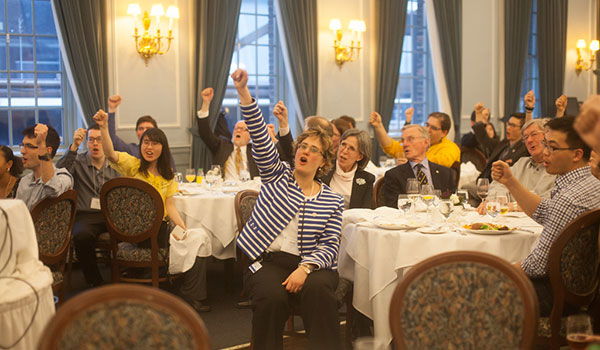 We recently launched a volunteer web page that outlines all of the various opportunities available to you as alumni of U of T Engineering. I encourage you to spend some time on the web page and discover some new and exciting ways you can give back to your alma mater.

I would also like to commend the alumni honoured at this year's Arbor Awards and Engineering Alumni Association Awards ceremonies. Their support and counsel has been invaluable and their dedication to SkuleTM is an inspiration to all of us.

Elias Kyriacou (ChemE 7T6)
President, Engineering Alumni Association
Alumnus aims to ease the transition of African students to U of T
Nigerian-born Diran Otegbade (ElecE 1T0) established a needs-based scholarship for African students.
World's fastest bike created by U of T Engineering alumni
Alumni Todd Reichert (EngSci 0T5, AeroE PhD 1T1) and Cameron Robertson (EngSci 0T8, AeroE MASc 0T9) are setting records — again.
SkuleTM icons and alumni innovations depicted in urban art
The construction site of the Centre for Engineering Innovation & Entrepreneurship is home to the longest single graffiti installation in Toronto.
Skulematters 2015 now available
This year's unique issue celebrates the many accomplishments of women in our engineering community.
Donor's gifts make big impact on Chemical Engineering
Dorothy Szymaszek has pledged gifts to BioZone, a student exchange fund and an award for undergraduate chemical engineering students.
Meet the alumnus behind Our Home & Miniature Land
David MacLean (CivE 8T5) is developing an interactive attraction that will showcase Canada through 3D model exhibits.
Godiva's Hymn Contest
The Engineering Society wants you to create new verses for Godiva's Hymn. Submit yours today!
Heading south for the winter? We want to hear from you
U of T is planning to host alumni events in Florida and Arizona. Please email your contact information to Sonia De Buglio, Director of Alumni Relations, so we can add you to the invite list.
Nov 11
SkuleTM Lunch & Learn: Early Airfields of Toronto
Nov 18
ECE's Fall Alumni Networking Reception
Nov 19
MSE Impact Speaker Series
Dec 9
SkuleTM Lunch & Learn: The Role of Food Engineering in International Development
| | | |
| --- | --- | --- |
| Jan 13 | SkuleTM Lunch & Learn: Advancing Engineering Education with Lessons from the Track | |
Volunteer

Make a connection, share your experiences and inspire the next generation of engineers today!
<![if !mso]> Learn More <![endif]>
Donate

Philanthropic support from
alumni and friends fuels our vision
and inspires us to reach higher.
<![if !mso]> Learn More <![endif]>
FROM THE SKULETM ARCHIVES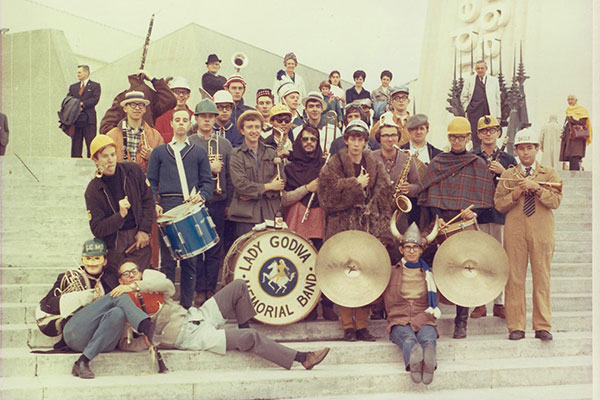 The Lady Godiva Memorial Bnad (sic) entertains onlookers at Montreal Expo 67. Thanks to alumnus John Pullam (EngSci 6T7, MASc ElecE 6T9) for submitting this image.

Do you have a photo fit for the SkuleTM Archives? We'd love to see them! Send all images and a brief description to sonia@ecf.utoronto.ca.
The University of Toronto respects your privacy.
We do not rent, trade or sell our mailing lists. Copyright © 2015 University of Toronto. All rights reserved.